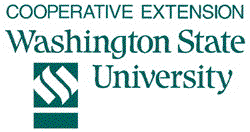 A monthly report on environmental and pesticide related issues
Open Forum: In an attempt to promote free and open discussion of issues, The Agrichemical and Environmental News encourages letters and articles with differing views. To discuss submission of an article, please contact Dr. Allan Felsot at 509-372-7365 or afelsot@tricity.wsu.edu; Dr. Catherine Daniels at 509-372-7495 or cdaniels@tricity.wsu.edu; or Dr. Carol Weisskopf at 509-372-7464. The newsletter is available in a hardcopy version for a $15 yearly subscription fee.
In This Issue (September 1998)
| | |
| --- | --- |
| PIRT | WaPCA Annual Meeting |
| So You Want to do Research in Aquatic Pest Control? | WSU Pesticide Issues Conference |
| Getting Started On the Web | Agriculture and Water Quality In the Pacific Northwest |
| Position Announcement | Dear Aggie |
| Container Collection | Tolerance Information |
Pesticide Incident Reporting and Tracking (PIRT)-Annual Review
Dr. Allan S. Felsot, Environmental Toxicologist, WSU
Lost in the hand wringing over possible effects of implementation of the Food Quality Protection Act is a simple fact about pesticide technology. Toxicologists have known for a long time that the biggest problem with pesticide use is acute exposure and toxicity among workers, most frequently involving mixers, loaders, and applicators. The hazards to workers are characterized by large exposures in short periods of time with the rapid onset of potentially severe symptoms occasionally requiring medical care. The concerns of workers are not addressed by the FQPA's focus on daily exposures to low levels of residues in food, water, and air hypothetically associated with chronic diseases like cancer. The FQPA deals with probabilities, i.e., risks of adverse health effects, but certain agricultural workers face the realities of high pesticide exposures and potential poisonings that have been well documented. Washington State mandated such documentation when in 1990 it authorized creation of the Pesticide Incident Reporting and Tracking (PIRT) Review Panel (RCW 70.104.070). The Panel is composed of toxicologists and public health experts representing several state regulatory agencies, universities, and the public.
The PIRT MANDATE
The charge to the PIRT Panel goes beyond worker exposure to pesticides and also encompasses all non-agricultural occupational and non-occupational exposures. The legislature intended the various state agencies charged with responsibilities for pesticide regulation to "coordinate their activities in a timely manner to ensure adequate monitoring of pesticide use and protection of workers and the public from the effects of pesticide misuse." Specific responsibilities of the PIRT Panel include:
Establishing the guidelines for centralizing the receipt of information relating to environmental and health incidents involving pesticides;
Reviewing and making recommendations for procedures for investigation of pesticide incidents;
Monitoring the time periods required for response by the regulatory agencies to pesticide-related complaints;
Reviewing unusually complex and irresolute pesticide incidents;
Identifying inadequacies of state regulations to protect public health, especially with regard to Federal pesticide reentry intervals and registered pesticide labels;
Reviewing and approving an annual report containing a summary of activities, cases reviewed, a tabulation of data from all the cases, identification of trends and issues, and recommendations for improved pesticide use practices.
This past July, the Panel released its 1997 Annual Report as mandated. The report contains pesticide incident statistics for the year 1996 and reviews trends since 1992. Close examination of the incident categories reveals useful information about problems in pesticide use, many of which can be easily remedied by training and attention to detail.
PIRT STATISTICS
The Annual PIRT Report is sectioned by reporting departments, which include the WSDA (Agriculture), DOH (Health), L&I (Labor and Industries), and the WPC (WA Poison Center). Despite the headline grabbing reports of pesticide incidents from drift to contaminated soil to poisoning, and considering the very large number of applications of pesticides to both urbanized and agricultural land, surprisingly few complaints are filed with each agency.
The DOH led all agencies with 504 individual cases where an incident involving a pesticide was suspected. This total number is about the same as last year (Figure 1).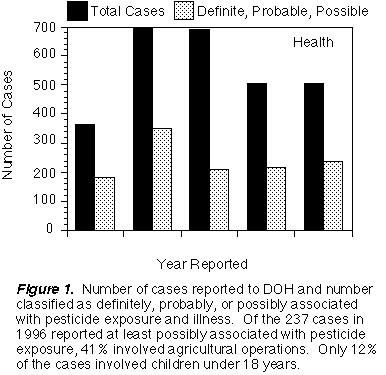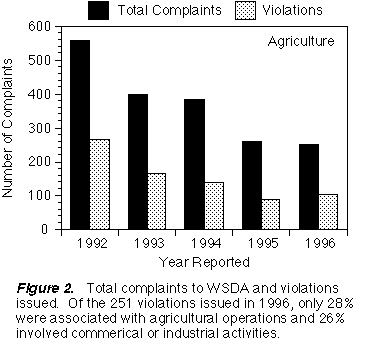 However, not all of these incidences are actually thought to be pesticides. During 1996, only 237 of the cases (47%) could be considered definite, probable, or possible cases of pesticide exposure and illness. A similar situation occurred among complaints filed with WSDA. Of the total 251 complaints received, violations of regulations were found in only 104 (41%) incidents (Figure 2).
L&I rejected 50% of occupational claims of harm from pesticides (Figure 3). And the WPC received a total of 132,649 calls related to some type of poisoning incident, but only 2% (3092 calls) involved pesticides (Figure 4). Thus, aggregate statistics of complaints or incidents reported to regulatory agencies must be carefully investigated and reviewed before concluding that all are actually related to pesticides.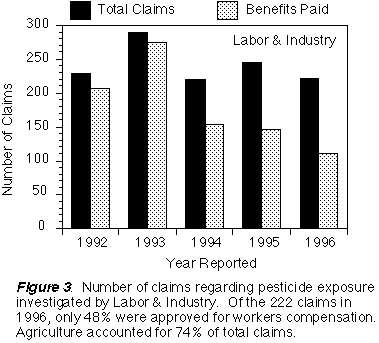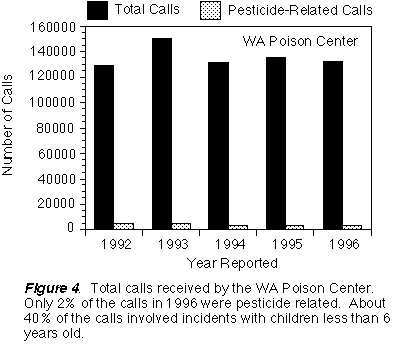 PIRT Benefits
Of course, any actual pesticide related incident is one too many. Thus, the best management practices possible must be adopted by private and commercial pesticide applicators. The statistics compiled by the PIRT Panel are useful for determining problem areas, and applicators can focus on improving deficient practices. For example, the majority of complaints, incidents, claims, and calls to the various reporting agencies involve insecticides. Concerning occupational exposures, the orchard industry is most involved.
The data indicate a need for greater vigilance regarding pesticide use and post-application practices when using insecticides in orchard operations.
Nevertheless, the overall news is good. The number of complaints and calls seems to have gone down over the last several years (Figures 1-4). For example, the total pesticide related calls to the WPC fell consistently from 4% of all calls in 1991 to 2% of all calls in 1996 (Figure 4). Complaints to WSDA are down by about 50% since 1992 (Figure 2), attributable in part to reductions in drift cases. These downward trends suggest great benefits from WA State's licensing and training program, which is a continuous educational effort.
The PIRT Review Panel ended its report with recommendations to itself and to the agencies. One interesting proposal is to obtain environmental incident data from natural resource agencies for inclusion in future reports. Such an effort would represent an expansion of direction from human health to environmental health. As shown with the compiling of data for incidents affecting humans, inclusions of environmental health could be beneficial in achieving even greater safety for pesticide applicators and for the general public.
For further information about the PIRT Review Panel or to obtain a copy of the recently released 1997 Annual Report, contact Lynden Baum, Pesticide and Surveillance Section, Washington State Department of Health (phone: 360-236-3361; FAX: 360-236-2257).
So you want to do research in aquatic pest control?
Dr. Kim Patten, Cooperative Extension Specialist, WSU Long Beach
Aquatic invasive species are invading the most precious asset in the Pacific Northwest - our water. Aquatic weeds, like spartina and Eurasian milfoil; invertebrates, like European green crab and zebra mussels, are either through the door and spreading swiftly (spartina and milfoil), just walked through the door (green crab), or knocking at the door with several close calls (zebra mussel). Not only do these species threaten the ecological integrity of the state's water resources, but since they have no natural controls in their new habitat, they spread rapidly, destroying native plant and animal habitat, damaging recreational opportunities, lowering property values, clogging waterways, and impacting irrigation and power generation. The ultimate cost to commerce and recreation in this state could be in the billions. Many millions have already been spent on spartina control alone. These species, once established, exhibit exponential growth – a lag phase followed by a rapid increase in population. Unless eradicated early in that growth curve, control becomes economically and politically prohibitive. There is, therefore, a great need to quickly develop cost-effective controls.
My paradigm of conducting pest management research was quickly and violently shattered when I engaged in aquatic pest control research. No longer was it simply a matter of just getting an Experimental Use Permit (EUP) and then doing the research. Once the word "aquatic" appears every task becomes monumental and the fate of the research project immediately becomes questionable. Experiments like evaluation of a simple surfactant to use with Rodeo in plots covering 1/100th of an acre in the control of spartina literally takes weeks of paper work, thousands of dollars in overhead costs, legal notices in the newspaper, postings of all property boundaries, official notification of all neighbors, and months of waiting for permits before the first drop can be sprayed. In addition, this process is also subject to public review, and any interested citizens' groups or organizations with an anti-chemical agenda can ask for a stay, or appeal the permit to the Pollution Control Hearing Board. This, in turn, could delay treatments for another year or indefinitely.
What do you need to do if you are planning to apply pesticides in water? First, all applications require that applicants have an aquatic endorsement on their pesticide license. Second, an aquatic EUP application must be submitted to the Washington State Department of Agriculture (WSDA). Third, a Water Quality Permit, also known as a "Temporary Modification of the Surface Water Quality Standards" must be obtained through the Washington State Department of Ecology (WDOE). In order to secure this permit, an applicant must go through the State Environmental Policy Act (SEPA) process. Some pesticides are already approved for certain aquatic pests in the state of Washington, such as Sevin for ghost shrimp. In this case, it is possible to obtain a permit without fanfare, but if the project will evaluate new products, the process can be excessively burdensome (time, money and red tape). Regardless of the size of the trials or safety of the pesticides, and certainty of obtaining the permit is always questionable.
What timeline are you looking at if you are planning on evaluating a new pesticide? The Water Quality Permit requires documentation on aquatic safety, basically data on the toxicological threshold of the organism to the chemical, and risk calculations of the pesticide fate after the application when the tide comes in. This information is probably not readily available and could take several weeks to gather from various sources. Completing the forms themselves will take several days. The aquatic EUP can be obtained from the WSDA in a relatively short time period. To obtain a Water Quality Permit you submit a SEPA environmental checklist packet to WDOE and a list of WDOE interested parties for review. The comment period for interested parties is 15 days. Comments are then incorporated into the permit document. The WDOE has up to 45 days to act on your permit. Additional time may be required if there are problems with the permit. If you can act as your own lead agency, rather than having WDOE do it, considerable time may be be saved during the process. Once the permit is granted, you must post legal notices of your applications in the newspapers and around the application site and notify adjacent property owners prior to your application.
If the neighbors protest, another testing site has to be found. The total timeline, if you don't have a single problem, data gap, complaint, or other snafu, could be 2 months. In general, to be on the safe side, you should allow yourself 3-4 months for completing this process.
Certainly the SEPA process, EUP's and Water Quality Permits are necessary to prevent indiscriminate use of toxins in water. After all, isn't aquatic stewardship a state and federal mandate through the Clean Water Act? These mandates, however, do not take into account the wisdom of taking a short-term risk to prevent an even greater long-term irreversible disaster from the aquatic invasive species itself.
The process has improved slightly this year as efforts have been made by agencies to coordinate the process and forms needed for permits and required toxicology data have been clearly defined. But, overall, the process remains the same and the threat of an appeal or stay of the permit can put the project in jeopardy. Maybe I am biased, but in my view, there have to be limits in that protective process that allows for some limited small-scale exploratory research without an excessive burden to the researcher. We don't have the time, the money or patience to play this game. These small plots represent an absurdly low environmental risk, yet are treated like the Exxon Valdez oil spill. In the next twenty years the state of Washington is going to be inundated with aquatic invasive species. If low risk efficacious solutions to aquatic pests are ever going to be implemented, the first phase of the process- getting permits to conduct research, needs to be made a little friendlier. This will probably take legislative action to assure that it happens.
Where Do You Get Your Information From?
Getting Started On the Web
Dr. Catherine Daniels, Pesticide Information Center
With the arrival of cheap, easy access to the Internet, anyone with the desire to obtain information can do so when it is most convenient for them. Information on pesticide tolerances, product registrations, cancellations, laws and regulations is available from a variety of sources.
If you are just beginning to surf the net, how do you find sites that provide the information you are looking for? The best method, as for anything, is a recommendation from an associate. The next two best methods are (1) using a search engine and very descriptive key words, and (2) following links. If you use a search engine, don't enter the word "pesticide" unless you (1) are not aware of any pesticide pages, or (2) want to spend several days fooling around on the web. That single word nets you 32,776 hits. Your time will be better spent searching instead for organizations you know should have information on pesticides. Those organizations usually maintain links to other sites that can quickly broaden your list of useful pages. There are four main classes of organizations to search for: state cooperative extension services, other state and federal agencies, members of the agrichemical industry, and environmental groups.
Cooperative extension
If you are not aware of the URL-that is computer lingo for web address- of your local extension office, they can probably be located by clicking on the "education" button on any search engine. This will take you to a listing of universities and colleges, by state, around the nation. Not all county offices or state specialists have web pages, but the amount and type of information available via the web may surprise you. Washington State University lists all its county offices (http://ext.wsu.edu/ce.cahe/programs/ce.offices.html), their directories and web pages, if available. The Washington State Pesticide Page, or WAPP, (http://pep.wsu.edu) contains a wide variety of information on pesticide education programs, Pesticide Information Center links, waste and container disposal, home and garden pesticide recommendations, lists of state resource personnel and their phone numbers and email addresses. The pesticide links section is particularly extensive. Another very useful extension page is EXTOXNET (http://ace.ace.orst.edu/info/extoxnet/), maintained at Oregon State University, which contains pesticide information profiles and toxicology information briefs among other very useful items.
State and Federal Agencies
A fairly up-to-date listing of many of the state departments of agriculture web pages is available on the Wyoming department of agriculture home page (http://wyagric.state.wy.us/). In the Pacific Northwest, Washington (http://www.wa.gov/agr/), Oregon (http://www.oda.state.or.us/oda.html), and Idaho (http://www.agri.state.id.us/) departments of agriculture all maintain web pages. Lists of both section 24c registrations and section 18's for Washington and Oregon are available via the Pesticide Notification Network (http://picol.cahe.wsu.edu). For those trying to locate a chemical synonym or CAS number, the California Department of Pesticide Regulation's page (http://www.cdpr.ca.gov/docs/database/database.htm) is particularly useful.
Federal web pages are extensive and varied. USDA's pesticide properties database (http://www.arsusda.gov/rsml/ppdb3/) lists physical properties of pesticides. Individuals interested in international harmonization efforts with Canada can access their page at http://www.hc-sc.gc.ca/pmra-arla. EPA's Office of Pesticide Programs (http://www.epa.gov/pesticides/index.html) web page contains a multitude of primarily technical information on tolerances, section 18's, federal register actions, re-registration eligibility documents, etc. For those groups interested in EPA publications, the National Environmental Publications Information Site is searchable (http://www.epa.gov/clariton/index.html).
Agrichemical Industry
The American Crop Protection Association (http://www.acpa.org) web page has some freely available information, such as FQPA updates, although it is primarily a subscription service. The WAPP page mentioned in the cooperative extension section has an extensive listing of agrichemical sites.
Environmental Organizations
Organizations run the gamut from state agencies such as the Washington State Department of Ecology (http://www.wa.gov/ecology/), to national advocacy groups such as the Environmental Working Group (http://www.ewg.org). For information on the governmental agency in your state, a listing is available, by state, at http://www.piperinfo.com/state/states.html.
This is an introductory article in what will become an infrequent series of pesticide-related web page reviews. If you know of an interesting site related to issues this newsletter covers (that you think we should be made aware) of please email the URL to dearaggy@tricity.wsu.edu.
---
Position Announcement
---
Applied Entomologist
Applied Entomologist; assistant professor. (75% Res/25% Ext), tenure track, 12-mo. appt. Starting date February 1, 1999. Location: Prosser, Washington (Washington State University, Irrigated Agriculture Research & Extension Center- WSU IAREC). Successful candidate to conduct research focused on, but not limited to, the biology of arthropod pests of hops, grapes (wine and juice), and possibly other crops to develop IPM strategies and innovative crop protection technologies. Person will be expected to develop and implement programs using new and existing technologies to maintain and enhance the national and international competitiveness of Washington agriculture. Person will be responsible for extending research results to growers, supporting agencies and industries, interested citizens, and the scientific community. Person will be expected to actively seek external funds, and supervise research assistants, graduate students, and post-doctoral associates as needed in the program. Person will be expected to provide written reports and oral presentations to supporting agencies and commodity groups, to interact with a broad clientele including pertinent commodities, private industry, governmental agencies, scientific organizations, producers, and individual citizens, and to publish in trade, technical, and extension publications and refereed journals. Person must be able to work independently as well as a member of interdisciplinary teams addressing cropping systems issues. Required qualifications: Ph.D with an emphasis in entomology; effective verbal and written communication skills; knowledge of principles and methods of integrated pest management in agroecosystems; experience with experimental designs, plot layout, sampling methods, and statistical analysis. Highly desired qualifications: Experience working with hops, grapes, and/or other perennial crops; experience communicating (written and verbal) and working with commodity groups and agricultural producers; experience in field investigation of arthropod biology, agrichemicals, IPM approaches (experimental design and implementation); demonstrated research skills (planning, conducting, and publishing) in entomology; demonstrated use and understanding of electronic communications and computer applications; experience in procurement and management of extramural funds for research; experience in administration of research and extension programs, and supervision/management of staff; demonstrated organizational skills and a capacity to interact with colleagues and clientele on teams, coalitions, and committees. Send a letter expressing interest and describing qualifications (address specially above points), CV, academic transcripts, and three requested letters of reference (have letters sent directly from source) to: Dr. Keith S. Pike, Search Committee Chair, WSU IAREC, 24106 N. Bunn Rd, Prosser, WA 99350 (ph. 509-786-2226; fax 509-786-9370; email kpike@tricity.wsu.edu). Application closing date: October 1, 1998. Salary competitive and commensurate with training and experience within the salary range of assistant professor at WSU. University contributes to medical, life, and salary continuation insurance options, plus retirement plans. WSU employs only US citizens and lawfully authorized non-US citizens. All new employees must show employment eligibility verification as required by the US Immigration and Naturalization Service. The university is an Equal Opportunity/ Affirmative Action educator and employer. Members of ethnic minorities, women, Vietnam-era or disabled veterans, persons of disability, and/or age 40 or more are encouraged to apply.
Container Collection
Washington Pest Consultants Association
Container Requirements
1. Must be rinsed, so that no residue remains.
2. Must be clean and dry, inside and out, with no apparent odor.
3. Hard plastic lids and slip-on lids must be re- moved.
4. Glue-on labels may remain.
5. The majority of the foil seal must be removed from the spout. A small amount of foil remaining on the container rim is acceptable.
6. Half-pint, pint, quart, one and two-and-a-half gallon containers will be accepted whole.
7. Five gallon containers will be accepted whole, if the lids and bails are removed.
8. 30 gallon and 55 gallon containers are now being accepted if they are cut into pieces no larger than 15 X 18 inches so that they will fit into the granulating machine.
**Containers that do not meet the above criteria cannot be accepted**
Container Collection Dates
Please put these dates on your calendar! Tell others about the program. Our industry does not want pesticide containers to become a waste issue. If we take the time to clean and recycle these products, we can save money, show that the industry is responsible in its use of pesticides, and reduce inputs to the waste stream. For more information about plastic pesticide containers contact: Clarke Brown (509) 965-6809 or Steve George (509) 457-3850.
Date & Time
Site
Sponsor
Contact Phone

Sept 1

8am - 11pm

NW Wholesale

Chelan

NW Wholesale
Herb Teas (509) 662-2141

Sept 1

1pm - 4pm

NW Wholesale

Orondo

NW Wholesale
Herb Teas (509) 662-2141

Sept 2

8am - 12pm

WSU TFREC

Wenatchee

Farm Bureau
Dale Goldy (509) 884-0711

Sept 10

8am - 12pm

Simplot

Bruce

Bruce Dealers
Clarke Brown (509) 965-6809

Sept 23

8am - 12pm

Nooksack Valley Spray Service
Nooksack Valley Spray Service
Gary Hertel (360) 354-6620

Sept 24

8am - 12pm

Tronsdal Air Service
Tronsdal Air Service
Curt Tronsdal (360) 757-0333

Sept 30

8am - 12pm

Dept. of Transportation
Kittitas County Solid Waste
Suzanne Tarr (509) 962-7698
If you are interested in hosting an event at your farm, business, or in a central location in your area, contact Clarke Brown at (509) 965-6809 or Steve George at (509) 457-3850.
WaPCA Annual Meeting
Ellen Bently, WSU IAREC
The annual WaPCA Meeting will be held November 12-13, 1998 in Yakima, Washington. Be sure to flip your calendar to November and make a note to attend theWashington Pest Consultants Association Annual Meeting. Thursday morning will feature specialty sessions on landscape integrated plant health management, row crop fertility and irrigation strategies, and tree fruit pest and disease IPM. Following an outstanding buffet lunch we'll be inspired by Mac Bledsoe (yes, Drew's Dad) to consider "Kids - America's Renewable Resource". The general afternoon session will enhance your professional skills by examine the crop consultant's role in pesticide residue studies, recommendation liability, FQPA issues and heavy metal labeling requirements. "Beer and Bull" will follow. Not just any old social, this new event will provide a relaxed atmosphere to review invited poster presentations, network with colleagues and a few surprises. Don't plan on ducking out on Friday! In response to member's requests the entire morning will focus on Organic Farming - How does the crop consultant help in the transition? Don't be left behind! Join us in Yakima! WaPCA members should have already received a meeting announcement. If not or for additional information, contact Ellen Bentley (509)786-9271, Ginny Prest (509)786-9215, Russ Bowman (509)952-8005 or point your browser to the WaPCA area of the Washington State Pesticide Page, http://pep.wsu.edu.
Agriculture and Water Quality
in the Pacific Northwest Conference
Dr. Allan S. Felsot, Environmental Toxicologist, WSU
You can't pick up a daily newspaper in the Northwest without seeing some story about water. Whether related to quality, quantity, salmon, or habitat, every story is connected, and every single citizen of our region is directly impacted. Thus it is only appropriate that regular conferences be held to discuss all of these issues in one place. This October 20 and 21, the second Agriculture and Water Quality in the Pacific Northwest Conference will be held at the Yakima Convention Center in Yakima, Washington. The conference has been organized by a steering committee representing regional, state, and local farm associations and government agencies.
The conference mission is "to provide a forum for agricultural interests, government, and environmentalists to come together in one place to discuss issues relevant to agriculture and water quality. The intent is to present the different perspectives in a non-confrontational forum and to help each other see and understand the other's perspectives and points of view." The conference is open to all and will be of especially great interest to agricultural producers, agricultural industry representatives, government and environmental organization representatives, natural resource managers, scientists and consumers.
The conference is designed to improve communication, build understanding, and foster cooperation through presentations and panel discussions. Individually submitted presentations have been organized into concurrent sessions to cover the following subject areas.
Best Management Practices
Columbia Basin Ground Water Management Area
Cooperative Problem Solving
Ecosystems and Watersheds
Environmental Education
Erosion Control
Farm Economics
Grazing
Information Exchange
Integrated Farming
Managing Nutrients
Non-point Source Control
Pesticide Management
Precision Irrigation
Riparian Health
Salmon Habitat and Recovery
Panel discussions by invited speakers will address current issues involving agricultural production, dairy waste management, nitrate health effects, pesticides, salmon, source water protection, water availability, water quality and wetlands management. In recognition of the educational benefits of the conference, credits can be earned for Certified Crop Advisor and Pesticide Continuing Education (i.e., Idaho, Oregon, and Washington pesticide license recertification program).
When it comes to water issues, we are all in this boat together. We can row together or we can flounder. All of us desire environmental quality. Only a meeting of the minds will steer us in the same direction.
For more information about the conference, accommodations, and pre-registration forms, contact Far West Fertilizer and Agrichemical Association (phone 509-838-6653; FAX 509-838-6685; email farwest@ior.com) or visit the Web site at http://wwwdwatcm.wr.usgs.gov/ccpt/ag_wg_conf98/.
Dear Aggie
Providing answers to the questions you didn't know you wanted to ask
In contrast to the usually more sober contributors to the Agrichemical and Environmental News, Dear Aggie deals light-heartedly with the peculiarities that cross our paths and helps decipher the enigmatic and clarify the obscure. Questions may be E-mailed to Dear Aggie at dearaggy@tricity.wsu.edu. Opinions are Aggie's and do not reflect those of WSU.
Stories about deformed frogs and declining amphibian populations keeping jumping out all over the newspapers and magazines.
It looks pretty scary. What's going on?
In August 1995, students from the New Country School in La Sueur, Minnesota were on a field trip and discovered a large number of frogs with limb deformities in a pond. They notified the Minnesota Pollution Control Agency (MPCA). One thing led to another, and now everyone is jumping up and down about deformed frogs. The concern stems from the idea that wildlife are like proverbial canaries in the coal mine. Their problems may be predictive of our demise. The controversy really heated up when well water collected from a location in Minnesota was tested by a lab at the National Institute of Environmental Health Sciences (NIEHS) and shown to cause frog abnormalities. The MPCA advised potentially affected people to drink bottled water. Although the study had flaws criticized by the EPA, the hunt has been on for deformed frogs. Several WEB sites are now devoted to explaining what is happening and reporting sightings of abnormal (as well as normal) frogs. A quick check at the WEB site of the North American Center for Reporting Malformations in Amphibians (http://www.npsc.nbs.gov./narcam/index.htm) indicates that abnormal frogs have been confirmed by biologists in at least 38 states and a couple of Canadian Provinces. In Washington State, sightings have been reported from seven counties.
Several hypothesis have been proposed to explain the deformed frogs, and all still require much more testing. Leading candidates mentioned in the press and several scientific publications include parasites, UV (sunlight), industrial chemicals (PCBs), and of course, pesticides. The pesticide hypothesis is really interesting because the leading candidate is methoprene. Methoprene is modeled after the natural juvenile hormone of arthropods (insects, crustaceans, spiders, and mites), works by disrupting normal metamorphosis, and thus has been considered (until now) as environmentally safe because it tends to be very specific to insects. It is sprayed on ponds and ditches to control mosquito breeding and can be fed to cattle as a feed-through to control nasty flies in manure. It turns out that methoprene has a chemical structure resembling vitamin A, which is in a class of biochemicals called retinoids. In the presence of sunlight, methoprene breaks down into forms that can cause limb abnormalities in developing tadpoles. Vitamin A also breaks down into a chemical called retinoic acid that is a very powerful inducer of birth defects. As a matter of fact, pregnant women have been warned not to take excessive amounts of vitamin A!
The widespread observation of malformed frogs at present doesn't seem explainable by any one hypothesis. The number of lame frogs being reported seems to have increased out of the blue over the last two years. Methoprene has been around since the mid 1970's. Why weren't abnormal frogs widely reported years ago prior to improvements in pesticide management. Why does Florida, a state where methoprene is used extensively for mosquito control, have such few reports of malformed frogs?
The other proposed hypotheses have their own limitations. Normal as well as abnormal frogs have parasites. A fungus was recently reported to be killing a lot of frogs in pristine regions, but it does not seem to cause deformities. UV light does not cause all of the types of malformations being reported. One thing is for certain—time will be required to sort out what is ailing the frogs, but for now, there is no need to jump to conclusions. (Sources: Hileman 1998, Chem. Engineer. News, v. 76 (21), pp. 40-41; Clair et al. 1998, Environ. Sci. Technol. 32:1453-1461.)
The Women Vs. Men Pollution Debate Redux
In the last couple of issues of AENews, Aggie informed our dear readers that natural estrogen hormones in treated municipal wastewater effluents in England have been shown to be responsible for affecting normal endocrine physiology of male fish. The affected male fish produced high levels of a protein called vitellogenin that is normally produced only by female fish under the control of estrogen. Aggie pleads guilty for leading our readers to believe that women alone are responsible for this newly discovered source of pollution. In fact, both women and men produce estrogen, but women produce much higher levels. Aggie recently learned that male fish with unusually high levels of vitellogenin have been found in Lake Mead on the border of Nevada and Arizona. Lake Mead receives drainage from the Las Vegas Wash that is significantly impacted by city effluents. Michigan State University zoologists have now linked the male fish anomaly in the region to high levels of human estrogens. Aggie doesn't want to lay blame anywhere but does recall seeing in Las Vegas a disproportionate number of female senior citizens feeding nickels into one-armed bandits. Talk about taking risks! (Source: Environmental Science & Technology, 1998, v. 32, p 8)
Tolerance Information
Jane Thomas, Pesticide Notification Network Coordinator, WSU

In the July 8 Federal Register, EPA announced that it is soliciting comments on its draft Pesticide Registration (PR) Notice entitled ``Residue Data Guidelines on Grass Seed Screenings and Straw.'' (7/8/98 page 36904 and 36905)

In the July 8 Federal Register, EPA announced that it had granted an experimental use permit, 70515-EUP-1, to BioRegulators, Inc. The permit allows for the use each year of 72 kilograms of Lyso-PE on 520 acres of apples, citrus, cranberries, grapes, peaches, pears, nectarines, strawberries, and tomatoes to evaluate pre- and post-harvest ripening and storage shelf life. The program, which expires June 1, 2001, is authorized in Arizona, California, Florida, Massachusetts, Michigan, Ohio, Washington, West Virginia, and Wisconsin.
| | | | | | | |
| --- | --- | --- | --- | --- | --- | --- |
| Chemical | Federal | Tolerance | Commodity (raw) | Time-Limited | | |
| (type) | Register (date/page) | (ppm) | | Yes/No | new or extension | expiration date |
| sodium chlorate | 7/1/98 page 35844 | exempt | wheat | Yes | Extension | 1/31/00 |
| | | | | | | |
| Comment: This exemption is issued in response to EPA granting a Section 18 exemption for the use of sodium chlorate on wheat in Mississippi. | | | | | | |
| bifenthrin (insecticide) | 7/10/98 page 37280 | 3.00 | raspberries | Yes | New | 12/31/99 |
| | | | | | | |
| Comment: This time-limited tolerance is issued in response to EPA granting a Section 18 exemption for the use of bifenthrin to control weevils on raspberries in Oregon and Washington. | | | | | | |
| Gliocladium catenulatum (strain 1446) | 7/10/98 page 37286 | exempt | all agricultural commodities | No | N/A | N/A |
| myclobutanil (fungicide) | 7/10/98 page 37289 | 1.00 | caneberries | Yes | New | 12/31/99 |
| | | 5.00 | hop cones, dried | | | |
| | | | | | | |
| Comment: This time-limited tolerance is issued in response to EPA granting Section 18 exemption's for the use of myclobutanil on canebrries in Oregon and on hops in Idaho, Oregon, and Washington. | | | | | | |
| myclobutanil (fungicide) | 7/17/98 page 38481 | 2.50 | mint (peppermint and spearmint) | Yes | Extension | 1/31/00 |
| | | | | | | |
| Comment: This extension is issued in response to EPA granting Section 18 exemption's for the use of myclobutanil to control powdery mildew in Idaho and Washington. | | | | | | |
| psudomonas fluorescens (strain PRA-25) | 7/17/98 page 38495 | exempt | peas | Yes | N/A | 7/31/01 |
| | | | beans, snap | | | |
| | | | corn, sweet | | | |
| | | | corn, supersweet | | | |
| | | | | | | |
| Comment: This exemption applies only when the product has been used on vegetable seeds in the planter box immediately before planting. | | | | | | |
| tebuconazole (fungicide) | 7/21/98 page 39032 | 2.00 | barley, grain | Yes | Extension | 12/31/99 |
| | | 20.00 | barley, straw | | | |
| | | 20.00 | barley, hay | | | |
| | | 15.00 | wheat, hay | | | |
| | | 2.00 | wheat, straw | | | |
| | | 0.10 | milk | | | |
| | | 0.20 | cattle; mbp | | | |
| | | 0.20 | goat; mbp | | | |
| | | 0.20 | hog; mbp | | | |
| | | 0.20 | horse; mbp | | | |
| | | 0.20 | sheep; mbp | | | |
| | | | | | | |
| Comment: This extension is issued in response to EPA granting Section 18 exemption's for the use of tebuconazole on wheat and barley. | | | | | | |
| capsaicin | 7/23/98 page 39519 | exempt | all food commodities | No | N/A | N/A |
| | | | | | | |
| Comment: This exemption from the requirement for a tolerance is being established by EPA on its own initiative. | | | | | | |