Green Manuring with Mustard
Improving an Old Technology
Andy McGuire, Agricultural Systems Educator, WSU
Green manuring is the tilling of fresh plant material into the soil to improve the soil and thus the growth of the following crop. It is an old technology, used by farmers since at least the 5th century BC. Immigrants brought the practice to the USA from Northern Europe and its use reached a peak in the early 1900s.
Over the past century, most farmers have replaced green manuring with the use of synthetic inorganic fertilizers. Recently, however, innovative farmers are giving this old technology a new look with mustard green manures (Figure 1). In contrast to the low input, low management green manures of the past, mustard green manures require fertilizer, irrigation, and intensive management. They require a current understanding of soil ecology, soil-borne pests, plant biochemistry, and breeding and screening techniques. And unlike synthetic fertilizers, they can improve the soil's physical, chemical, and biological qualities.
FIGURE 1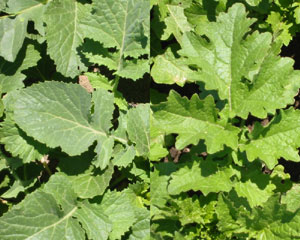 Above left: Oriental mustard (Brassica juncea). Above right: White mustard (Sinapis alba).
These multiple benefits are attracting an increasing number of farmers in the Columbia Basin of Washington (Figure 2). They are using mustard green manures, mainly before potatoes, to improve their soils and thereby manage soil-borne pests, control wind erosion, increase infiltration, improve crop yields, and they hope, increase profits.
FIGURE 2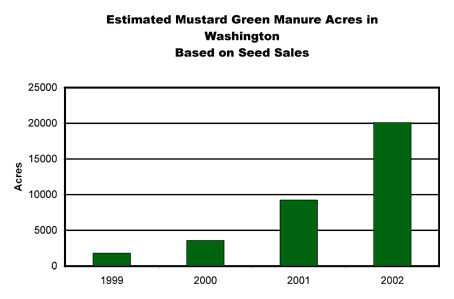 Green Manure Research
Up through the 1940s, green manure research was focused on improving the soil's physical characteristics and ability to supply nutrients to crops. But as synthetic fertilizers predominated, green manure research faded. In the late 1980s, researchers in the Pacific Northwest began to look again at green manures, but now for soil-borne pest control. Nematodes (Mojtahedi et al. 1993), weeds (Boydston and Hang 1995), and soil-borne diseases (Davis et al. 1994, 1996) were all targets of this research, done mainly to improve potato production. Sudangrass, already used in Washington as a cover crop before potatoes, was evaluated, but so were less familiar crops like rapeseed, oilseed radish, and mustard.
Dale Gies' Cropping System
The use of mustard green manures by Columbia Basin farmers can be traced to sugarbeet research done in Idaho in the early 1990s. Several varieties of white mustard (Sinapis alba) and oilseed radish were imported for testing as trap crops of the sugarbeet cyst nematode. One of these mustard varieties, Martigena, made its way into the hands of several Columbia Basin farmers who were trying it out as a green manure in irrigated crop rotations. One of these farmers was Dale Gies.
Gies, who farms just south of Moses Lake, took several years to develop his unique cropping system, a profile of which is available on the Internet at http://grant-adams.wsu.edu/agriculture/covercrops/pubs/System_profile-Gies.pdf. This system is designed around a two-year rotation of wheat followed by potatoes, with a mustard green manure planted after wheat harvest and incorporated in late October (Figure 3). Reduced tillage, careful water use, and good nutrient management practices are also important system components.
FIGURE 3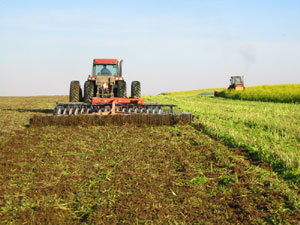 Mustard green manure being chopped and disked in October.
Using this system, Gies found he could successfully grow potatoes every other year on the same field, which is no small feat. The Norkotah potatoes that he grows are very susceptible to the soil-borne pathogen Verticillium dahliae. This fungus causes potato early dying complex, which is normally controlled with longer rotations (at least three years between potato crops) and with soil fumigation before planting the potatoes. But Gies, in spite of his short rotation, was harvesting above-average yields. He also noticed improvements in his soil. In 1999, Gies began working with Washington State University (WSU) to understand these observations and refine these techniques.
In the past four years of on-farm research, we at WSU have measured improvements in soil quality and conducted fumigant replacement trials in Gies' fields. (Until 2001, he still fumigated before planting potatoes, but experimented with omitting the fumigant in parts of fields. In those areas he saw evidence that fumigation might not be necessary in his system). We have also worked to understand and improve the use of mustard green manures. The remainder of this article is a description of this work.
On-Farm Research
Improved soil quality. Soil quality is measured by specific attributes such as infiltration, soil respiration, bulk density, and aggregation; optimal levels of these attributes contribute to soil health. A healthy soil is one that will support crop growth without soil degradation or harm to the surrounding environment.
Infiltration is the process of water entering the soil. The rate of infiltration is important in irrigated agriculture, especially where center pivot irrigation is used. In these systems, the water application rate at the outside of the circles is often higher than the infiltration rate of the soil. This can result in runoff and ponding in low areas, which can lead to increased incidence of root-rot diseases. Where fertilizers and pesticides are being applied through the water (chemigation), high infiltration rates allow the chemicals to stay where they fall. Good infiltration is also correlated with good aeration, which also can reduce soil-borne disease problems.
Green manures can increase infiltration rates, but the effect is not direct. It begins, as with many green manure effects, with the addition of organic matter to the soil. As soil microorganisms digest this organic matter, they produce various substances called soil glues. These glues bond soil particles together into stable aggregates, or soil "crumbs," which allow water to move more quickly into the soil.
We have measured infiltration on adjacent fields having similar soil textures. One was managed under the Gies cropping system. The other was in a rotation more typical of the Columbia Basin, with no green manures.
TABLE 1

Average infiltration rates after consecutive 1-inch applications of ponded water.

Point in Rotation

Average Infiltraton Rates* (in/min)

1st inch

2nd inch

3rd inch

SEPTEMBER 3, 1999

After Wheat Harvest (MGM)†
1.39a
0.48a
§
After Wheat Harvest (no MGM)
0.13b
0.18b

NOVEMBER 2, 2000

After Potato Harvest (MGM)
0.20a
0.19a
0.16
After Sugarbeet Harvest (no MGM)
0.39a
0.05b

MARCH 7, 2001

Potatoes/Winter (MGM)
0.57a
0.10a
§
Sugarbeets/Winter (no MGM)
0.06b
0.05b

MARCH 5, 2002

Potatoes/Winter (MGM)
0.14
0.09a
0.08
Fallow/Winter (no MGM)
0.10
0.05b
* Mean separation (within date and inch applied) by PLSD at 0.01 level.
† MGM - Rotation with mustard green manures.
a,b Figures with the same letter are not statistically different.
§ Third inch not measured on neighboring field due to time constraints.
Infiltration rates (Table 1) were generally much greater under the Gies cropping system. One exception was after potato harvest on the Gies field and sugarbeet harvest on the adjacent field (2000). Infiltration rates on both fields were measured on soils that had been fluffed up during harvest. In this condition, the infiltration rate for the first inch of applied water was lower in the Gies field than in the adjacent field. However, the situation was reversed when a second inch of water was applied. We believe that the aggregates in the field not receiving green manures were not stable in water. After the first inch of water was applied, they broke down and sealed the soil. Infiltration in the Gies soil was stable, even when a third inch of water was applied. This difference in aggregate stability of the soils was confirmed in later measurements (Figure 4).
FIGURE 4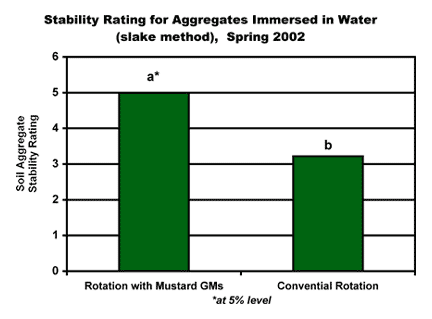 Reduced Wind Erosion. Another benefit of increased aggregation due to green manures is reduced wind erosion. Farmers in the Columbia Basin have observed this in fields receiving green manures. Research to confirm their observations is on-going; check for new research results at the WSU Cooperative Extension, Grant-Adams Area website: http://grant-adams.wsu.edu.
Improved Nutrient Cycling/Availability of Nutrients. Mustard green manures can improve nutrient cycling by taking up nutrients that might otherwise be lost to leaching. When a green manure is returned to the soil, much of the nitrogen that the mustard takes up, whether from fertilizer or residual from the previous crop, will become available to following crops. This is also true for other nutrients. As the saying goes, "feed the soil and the soil will feed the plants." A rule of thumb for green manures incorporated the same season as the following crop is that 50% of the nitrogen in the green manure will be available. The actual amount depends on the plant composition, soil temperature, soil moisture, and losses due to leaching.
Leaching of nutrients released during decomposition is a risk with mustard green manures because they are incorporated in the fall. This risk may be reduced when the mustard green manure is incorporated with a large amount of wheat straw, which will tend to tie up any available nitrogen in the soil. To do this, farmers must direct seed the mustard through standing wheat stubble. If, however, the wheat straw is incorporated before mustard planting, it will tie up nitrogen and more fertilizer will be required to grow the mustard.
Spring incorporation would lessen the risk of leaching, but farmers prefer to incorporate in the fall for several reasons. First, they do not want to have to deal with a green manure in the spring when there are many other things to do. Second, there is less risk of damage from any soil-borne pathogens that might have been stimulated by the green manure. Finally, because mustards will not always survive winters in this region, a spring incorporation of dead plants would not give them the green manure effects that are important for pest control (see Green Manure Effects, below).
Green manures can also increase nutrient availability through weathering of soil mineral components. This weathering may be caused by the production of acids by microorganisms during the decomposition of the green manure. Research on the nutrient cycling of mustard green manure crops is beginning this year.
Improved Management of Soil-Borne Pests. Much of the renewed interest in green manures is focused on their potential to help control soil-borne pests such as fungal pathogens and nematodes. Often, these pests cannot be controlled well with pesticides and when they can, as with soil fumigants, it is expensive to do so. Mustard green manures offer farmers a management tool for some of these pests.
The fumigant metam sodium is widely used in Columbia Basin potato production for the control of Verticillium dahliae, a major cause of potato early dying complex. Without such control, yield losses of up to 30% can be expected. We conducted fumigant replacement trials to see whether such losses would occur in the Gies wheat/mustard-potato rotation if we did not apply metam sodium.
Three trials were conducted over two years (1999 and 2000) on loamy sand and sandy loam soils. Mustard green manures were fall-incorporated and potatoes (cv. Russet Norkotah), with and without metam sodium, were planted the following spring. The results (Figure 5) show that the fumigant did not increase potato yields over those produced without fumigant. Gies could have saved the money spent on the fumigant and harvested the same amount of potatoes.
FIGURE 5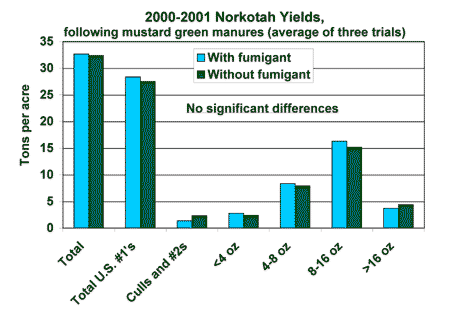 Although the replacement of fumigant with mustard works for Gies, his system is quite different from that of other potato farmers in Washington. While Gies grows a short-season potato (Norkotah) for the fresh market, 90% of Washington's potato farmers grow longer-season potatoes for processing. Processors require these farmers to grow crops other than potatoes for at least three years before growing potatoes, so the short two-year rotation that Gies uses is not feasible for them. Therefore, in 2001, we began to investigate whether we would find the same results with these longer-season potatoes in longer rotations.
Our first results (Figure 6) indicate that it is possible to replace metam sodium with mustard green manures in long-season potatoes. Specific gravity (referenced in the figure) is a measurement of the amount of solids in a potato. Processors want high specific gravities to improve their product quality.
FIGURE 6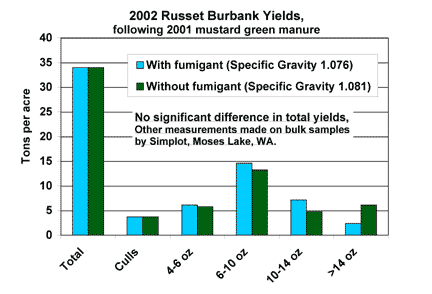 While this first trial gave positive results, other fields (unreplicated plots) on the same farm showed lower yields where the fumigant had been omitted. We are now trying to determine whether these conflicting results are due to differences in initial disease pressure, soil properties, management of the mustard, or other factors.
Pest Control Mechanisms
The effects of mustard green manures are the result of multiple mechanisms. Because it is difficult to observe these mechanisms in the soil, our strategy has been to identify, as best we can, the primary mechanisms and the green manure attributes that enhance these mechanisms. We can then manage the mustard to produce those attributes.
In this strategy, we have focused on three groups of mechanisms that stem from different aspects of the mustard green manure:
crop rotation effects from growing the crop,
green manure effects from tilling fresh plant material into the soil, and
biofumigation effects from the chemicals in the green manure.
Crop Rotation Effects. Before advances in soil science and microbiology, many effects of green manures were assumed to be the result of simple crop rotation. Rotating diverse crops can reduce pest problems by changing the environmental conditions in the field. These changing conditions disrupt pest life cycles. In general, rotating crops with different planting dates (spring vs. fall), different growing habits (annual vs. perennial, tall vs. short, fibrous vs. tap rooted), or different susceptibility to pests (grasses vs. broadleaves) helps prevent any one pest from becoming a problem.
The Columbia root-knot nematode is a serious pest in potatoes that can be reduced by rotating non-host crops. Mustards, depending on the study, have been classified as non-hosts, poor hosts, or moderate hosts of this nematode. Although a mustard green manure is probably not grown long enough to reduce nematode number by this mechanism, a poor/non-host status would keep the nematode populations from increasing. These nematodes, however, can increase on weeds in the mustard. Therefore, some farmers choose to control volunteer wheat and other weeds in their mustard crop with selective herbicides.
One rotation-related concern of Columbia Basin farmers is that the mustard could cross-pollinate with existing Brassica seed crops. The August planting date of most mustard green manures limits this risk, but farmers growing mustard still have the responsibility to prevent cross-pollination by either incorporating or otherwise killing plants which survive in fields or field borders.
Green Manure Effects. Incorporating fresh, green plant material into soil changes the soil's biology through a transfer of energy. Energy from the sun, stored in plants, is made available to soil microorganisms through green manuring. As these fungi and bacteria digest the plants, certain species (usually beneficial) increase in number because they are best suited to use this energy. The increased numbers of these beneficial species can then suppress pathogens through a number of potential mechanisms such as the interference of chemical signaling between the plant and pathogen, predation, parasitism, and competitive exclusion. Competitive exclusion is the mechanism that occurs when the increased number of beneficial microorganisms out-compete pathogens for location in the area just outside roots of the following potatoes.
There is evidence some green manures are better "food" for the soil than others. Certain Brassica green manures have been shown to increase the total fungal populations while reducing those of Pythium (Lazzeri and Manici 2001). In the same study, a non-Brassica green manure resulted in increases in both total fungal and Pythium populations. The differing results may be due to chemicals in the Brassica crops (see Biofumigation Effects, below)
One of the most beneficial green manure effects could be the building of suppressive soils. These are soils that should have a disease problem, but do not because certain microorganisms are suppressing the disease-causing agents, whether fungi, bacteria, or nematodes (Cook and Baker 1983). Suppressive soils can result from growing the same crop continuously for many years. Under this scenario, disease pressure increases at first, but eventually decreases and remains at low levels. Green manures may be a more practical way to build suppressive soils. Different green manure crops have been evaluated for their ability to produce soils suppressive to Verticillium, common scab, and other soil-borne diseases (L.L. Kinkel, data not yet published). Canola, sudangrass, and buckwheat were found to be better green manures than other crops in creating suppressive soils (mustard was not tested).
Although the effects of green manures usually favor beneficial microorganisms, there can be short-term increases in disease-causing Pythium, Fusarium, and other fungi immediately after incorporation. This increase does not usually last long, but farmers should wait from two to four weeks after incorporating a green manure before planting a crop.
Biofumigation Effects (Allelopathy). Biofumigation is the name coined by Kirkegaard and Sarwar (1998) to describe the effects of the chemicals produced by a Brassica green manure crop. It is one type of allelopathy, the chemical inhibition of one species by another.
Plants in the Brassica family, such as rapeseed, broccoli, cabbage, and mustard, produce compounds called glucosinolates in their roots and shoots. They also produce an enzyme called myrosinase, which is normally separated from the glucosinolates. When the plant cells are damaged, by an insect or by a farmer chopping a green manure crop, the glucosinolates and the myrosinase come together. A reaction takes place that produces a mixture of other compounds (Figure 7). Some of these resulting compounds are toxic to soil fungi, nematodes, and even weed seeds. These are the same chemicals that make your nose burn when you eat hot Chinese mustard.
FIGURE 7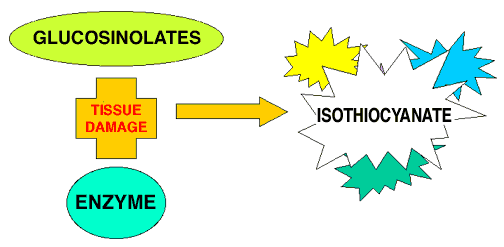 One class of these compounds, called isothiocyanates, are very similar to synthetic fumigants, hence the name biofumigation. The active compound in the fumigant metam sodium is methyl-isothiocyanate.
However, biofumigation is not as simple as using metam sodium. There are over 100 different glucosinolates, which produce different degradation products that have different effects on specific soil-borne pests. Different mustard species produce different glucosinolates. Within a species, roots may produce different glucosinolates than shoots. Finally, glucosinolate concentrations differ according to plant part, age, health, and nutrition. Despite this complexity, the potential exists to reduce pest populations in the soil through this mechanism (Brown and Morra 1997).
Effects on Soil-Borne Pests
Verticillium and Other Soil-Borne Fungal Pests. As mentioned before, Verticillium is a serious pest in potatoes and controlling it with fumigants is expensive. In the 1990s, it was found that a sorghum-sudangrass green manure could suppress Verticillium as well as fumigants (Davis 1994). Later research showed that other grass green manures such as barley, wheat, and sweet corn also suppressed Verticillium. To achieve this effect, it was necessary to produce lots of plant material (four to five tons of dry matter per acre) and incorporate it green. The incorporation of dry crop residues, even of mustard residues, does not provide the same beneficial effects in terms of pathogen suppression as a green manure. This may be due to competitive exclusion, but whatever the mechanism, it is not unique to mustard green manures, and therefore is not due to biofumigation.
Other soil-borne fungal diseases such as silver scurf (Vaughn 1998) and white mold (Smolinska and Horbowicz 1999; Pung 2002) might also be suppressed through biofumigation or a combination of these mechanisms.
Nematodes. It is not clear which mechanism is responsible for reducing the populations of parasitic nematodes. Growing a poor or non-host crop will help, but biofumigation and the green manure effects are probably also involved. Whatever the mechanism, rapeseed, sorghum-sudangrass, and white mustard green manures have all been shown to reduce the numbers of Columbia root-knot nematode by up to 90% (Mojtehedi et al. 1993). Unfortunately, this supression is not sufficient to meet quality standards for processing potatoes. Therefore, in fields infested with the Columbia root-knot nematode, mustard green manures must be combined with fumigants or contact nematicides to obtain the necessary control.
Weeds. The rapid growth of mustard can shade weeds and reduce their growth. After incorporation, biofumigation is probably the mechanism that later suppresses germination of small weed seeds (Al-Khatib and Boydston 1999). Crops seeded too soon after the incorporation of a Brassica crop can also be damaged.
Mustard Management Strategies
Certain attributes of a mustard green manure enhance its effectiveness in improving soil quality and controlling pests. Farmers can manage the mustard to produce these attributes if they have the information they need to make good decisions. Table 2 shows these desired attributes, the mechanisms that they affect, the related management decisions, and the information available to help farmers make these decisions.
Cost
The cost of a mustard green manure, as grown on the Gies farm, is shown in Table 3. Because a green manure is used to improve the crop that follows, its cost should be viewed as part of the production costs for that crop. Increases in crop yield and quality and potential decreases in nitrogen or pesticide needs will all be factors in determining the worth of a green manure. In addition, the value of improved soil quality, in both the short and long term, though difficult to estimate, should be considered.
The calculation is more straightforward where the mustard green manure replaces a fumigant. Where this is possible, substantial savings can be realized.
TABLE 3

Mustard Green Manure Crop Estimated Variable Costs 2002

Item

Unit

Cost/Unit

Quantity

Mustard Cost/Acre

Normal Cost/Acre*

Seed
lb.

$2.35

10

$23.50

$0.00

Planting
acre

$6.10

1

$6.10

$0.00

Fertilizer
lb.

$0.38

100

$38.00

$0.00

Herbicide
acre

$15.00

1

$15.00

$0.00

Irrigation Power
acre-in

$1.78

9

$16.02

$5.34

Chopping
acre

$6.00

1

$6.00

$6.00

Disking/Packing
acre

$5.00

2

$10.00

$10.00

Total: $114.62

$21.34

Mustard cost over normal practice: $93.28

Mustard cost over normal practice, without fertilizer costs: $55.28

Fumigant (metam sodium) cost: $140.00+

Potential Savings of $47 - $85+ per acre

* Costs normally incurred following wheat harvest
Green Manures in Cropping Systems
Mustard green manuring is not an isolated practice. It must be integrated into a cropping system to produce the maximum benefits. Systems that reduce tillage, avoid compaction, rotate crops, and control erosion will help maintain soil quality gains that come through green manure use. Good management of water and soil fertility will ensure that gains in soil-borne pest control will not be lost to waterlogged soils or over-fertilization.
The Future of Green Manuring
The demand for food, and thus the need for quality soils, will only increase. Although improved synthetic fertilizers and pesticides will continue to be important, they, by themselves, do not build soil quality. It will be through green manuring and other practices that increase or conserve soil organic matter that we will maintain and build our soils, just as it has always been. What will change is the attention we pay to green manuring.
If we continue to improve this old technology by applying our growing knowledge of soil ecology, plant pathology, plant breeding, biochemistry, horticulture, and agronomy there are many possibilities:
Crops bred for green manure use.
Rotation of green manure crops.
Prescription green manure blends.
Genetically modified green manure crops.
Any or all of these could be the future of green manuring if we choose to pursue them.
In 1927, Pieters wrote in his book Green Manuring: Principles and Practice, "Much is known of what goes on in the soil when organic matter is added, but much still remains to be learned." While we have added much to our cumulative knowledge since then, the same could be said today. The soil still has secrets. There are still processes within plants that we do not understand. If we continue to increase our knowledge of both the soil and plants, green manuring could again become a common practice.
Andy McGuire is the Lauzier Agricultural Systems Educator for Washington State University Cooperative Extension and a member of the leadership team for the Center for Sustaining Agriculture and Natural Resources. More information on mustard green manures is available at http://grant-adams.wsu.edu/agriculture/covercrops/green_manures/index.htm. Andy can be reached at amcguire@coopext.cahe.wsu.edu or (509) 754-2011.

ACKNOWLEDGEMENTS
I would like to thank the following for help in this work: Dale Gies, grower; Sally Hubbs, WSU, Conservation District Partnership; Gary Pelter, WSU; Dr. Ekaterini Riga, WSU; Dr. Matt Morra, University of Idaho; Dr. Hal Collins, USDA-ARS; and Dr. Luca Lazzeri, ISCI-Italy. And for their financial support: the Washington State Potato Commission, the Washington State Commission on Pesticide Registration, and the WSU Center for Sustaining Agriculture and Natural Resources
REFERENCES
Al-Khatib, K., and R. Boydston. 1999. Weed control with Brassica green manure crops, Chapter in Allelopathy Update, Volume 2, Basic and Applied Aspects, ed. S.S. Narwal. Oxford & IBH Publishing Co. Pvt. Ltd.
Boydston, R. A., and A. Hang. 1995. Rapeseed (Brassica napus) green manure crop suppresses weeds in potato (Solanum tuberosum). Weed Technology 9:669-675.
Brown, P. D., and M. J. Morra. 1997. Control of soil-borne plant pests using glucosinolate-containing plants. Advances in Agronomy 61:167-231.
Cook, R. J., and K. F. Baker. 1983. The Nature and Practice of Biological Control of Plant Pathogens. Am. Phytopathol. Soc., St. Paul, MN.
Davis, J. R., O. C. Huisman, D. T. Westermann, L. H. Sorensen, A. T. Schneider, and J. C. Stark. 1994. The influence of cover crops on the suppression of Verticillium wilt in potato. pp.332-341. In: Advances in Potato Pest Biology and Management, ed. G.W.Zehnder, et al. APS Press, 655 pp.
Davis, J. R., O. C. Huisman, D. T. Westermann, S. L. Hafez, D. O. Everson, L. H. Sorensen, and A. T. Schneider. 1996. Effects of green manures on Verticillium wilt of potato. Phytopathology 86(5): 444-453.
Kinkel, L.L. Department of Plant Pathology, University of Minnesota.
Kirkegaard J. A., and M. Sarwar. 1998. Biofumigation potential of Brassicas. Plant and Soil 201:91-101.
Lazzeri, L. and L. M. Manici. 2001. Allelopathic effect of glucosinolate containing plant green manure on Pythium sp. and total fungal population in soil. HortScience 36(7):1283-1289.
Mojtahedi, H., G. S. Santo, and J. H. Wilson. 1993. Managing Meloidogyne chitwoodi on potato with rapeseed as green manure. Plant Disease 77(1): 42-46.
Mojtahedi, H., G. S. Santo, and R. E. Ingham. 1993. Suppression of Meloidogyne chitwoodi with Sudangrass cultivars as green manure. Journal of Nematology 25(2):303-311.
Pieters, A. J. 1927. Green Manuring; Principles and Practice. John Wiley & Sons Inc., New York, NY.
Pung, H. 2002. Successful use of biofumigant green manure crops for soil-borne disease control. Biofumigation Update 16:2.
Smolinska, U., and M. Horbowicz. 1999. Fungicidal activity of volatiles from selected cruciferous plants against resting propagules of soil-borne fungal pathogens. Phytopathology 147:119-124.
Vaughn, S.F. 1998. Volatile compounds produced by plants in the Brassica or mustard family suppress growth of soil fungi that cause silver scurf and Verticillium wilt in potatoes. ARS Quarterly Report of Selected Research Projects, IPM/Biological Control. http://www.ars.usda.gov/is/qtr/q398/ipm398.htm.
Go to Agrichemical and Environmental News Index
Go to WSPRS (Washington State Pest Management Resource Service) Home Page
---