Do Buffers Make Good Neighbors?
Minimizing Pesticide Exposure at the Ag-Urban Interface
Dr. Allan Felsot, Environmental Toxicologist, WSU
From Apples to Houses
Ten years ago my front window yielded a panorama of nothing but orchard creeping up the backside of Badger Mountain. But as the price of apples went down, the trees were uprooted to make way for tracts of houses (Figures 1, 2). Such scenes are being repeated throughout agricultural regions everywhere as suburbia intertwines with agriculture. Whether it's progress depends on your viewpoint, but conflicts may arise as former urbanites receive an intimate education about modern commercial agriculture.
Life on the Farm
Farm operations kick off early in the day. The noise, smell, smoke, and dust are visible reminders of a green factory hard at work. Of course, other urban enterprises have visible and audible side effects, so if wanting to strangle the rooster at 4 am were the worst of it, most folks probably wouldn't have a problem co-existing with production agriculture.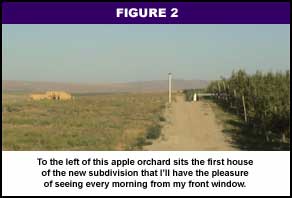 But there are other activities inherent to farming that concern non-farmers and can lead to neighborly conflicts. Some people worry the minute they see a spray rig, regardless of the intended spray location. People with respiratory problems worry when they see field burning in progress. Add to this cautionary or even alarmist headlines about pesticide drift, and reasonable concerns can become paranoia or panic.
Pesticide use is intrinsic to conventional and organic agriculture alike. The physics of drift make some pesticide movement off-target likely. Practices to minimize drift are required. Nevertheless, pesticide drift can be considered a form of trespass. So how can growers continue to pursue their livelihood while sharing borders with residential neighbors?
Neighborly Relations
One way growers can avoid conflict is by judiciously employing vegetative buffer zones. Part of the reason buffers work is illustrated by the old adage "out of sight, out of mind." Screening operations behind solid stands of trees and bushes not only reduces the visual impact of farming operations, it cuts down noise and dust. Further, no-spray buffer zones can reduce potential pesticide hazards to insignificance by minimizing exposure.
The question is, how large does a buffer zone have to be to be effective? The question is more than theoretical as county planning agencies permit the development of residential areas among working orchards and other cropping systems.
My Involvement with Buffers (or "Does Size Matter?")
My interest in appropriate sizes of buffer zones began in the 1990s with an examination of spray drift from Christmas tree plantations, with an emphasis on whether prescribed buffer zones were adequate for protecting water quality (Felsot et al. 2003). Then, in 1997, the Benton County Planning Commission asked me to determine the size of buffer zone needed to protect a planned residential area against potential spray drift from an adjacent orchard. In this case, the land developer was going to be required to leave an undeveloped area between the house lots and the orchard. Although growers can and often do leave unsprayed rows in their fields or orchards as a voluntary measure, county "Right-to-Farm" laws dictate that new land uses in established agricultural zones must yield to the interests of the farms.
To determine a reasonable size for a buffer between the orchard and residences on the planned adjacent lots, I needed two pieces of information:
the deposition of spray downwind of the last row treated, and
the toxicological properties of the pesticides being used along with tolerable levels of exposure.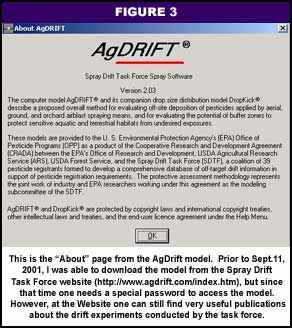 First, to estimate (or predict) the deposition of spray, I used a mathematical equation developed from drift data measured in an experimental orchard at Ohio State University (Fox et al. 1993). At the time of the Planning Commission's request, this was one of the best models available to me. Later, the drift simulation model AgDrift was publicly released, making estimation of drift from ground and aerial spraying easier (Figure 3).
Next, I needed information about the toxicological properties of the pesticides used in the orchard and levels of exposure accepted by the U.S. EPA as constituting a reasonable certainty of no harm. The tolerable exposure level is by regulatory tradition called the reference dose. It represents the NOAEL (No Observable Adverse Effect Level for the most sensitive physiological hazard) divided by a safety factor of at least 100. All of this information is available from EPA's Reregistration Eligibility Decision Documents (http://www.epa.gov/pesticides/reregistration/status.htm) or by searching for specific pesticide tolerance petitions that are published in the Federal Register.
To make a long story short, I estimated that at least 150 ft (~50 m) should be left undeveloped between a fixed residential structure and the last row of the farm (see sections below for an explanation of methodology). Since that time, however, I've been wondering just how conservative drift modeling is.
Toxicological Relevance and AgDrift
The AgDrift model has three agricultural components or modules: ground spraying with a boom mounted four feet or less from the ground, orchard spraying with an airblast sprayer, and aerial spraying with either a fixed wing aircraft or helicopter (Figure 4). The aerial spraying module is based largely on the theory of particle movement and deposition (Teske et al. 2002). It relies on a library of nozzles for which the spray aerosol size distribution is known. The aerial module can be manipulated to account for various meteorological parameters (e.g., wind speed and direction, temperature, humidity, surface roughness). In contrast, the ground and orchard spraying modules are empirical in nature, based on numerous experimental studies. Their limitation is that they do not rely on the physics of particle movement but rather on a mathematical description of the studies that were used to make the model. Thus, meteorological characteristics cannot be altered in these modules. The orchard model, however, can simulate a dormant spray and a full-canopy spray (Figure 5, 6).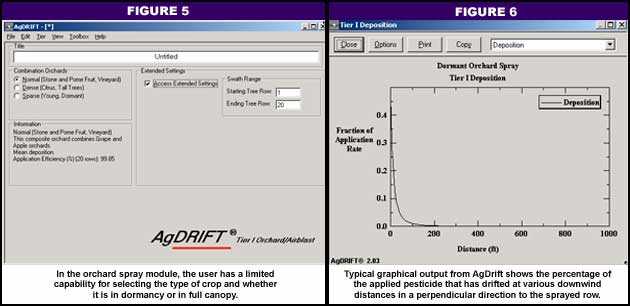 Bystander contact with organophosphorus insecticides is the greatest inadvertent exposure concern in fruit production, so we set about studying that type of exposure. During crop year 2002, we received permission to set up an experiment in a block of Gala apples at a commercial orchard located west of Quincy, Washington.
Airblast sprayers are most commonly used to apply insecticides in orchards and vineyards. Application usually takes place once or twice a growing season. In our test orchard near Quincy, we ran an airblast sprayer between the first and second rows, then the second and third rows (Figure 7). We reasoned that less drift would be measurable outside of the orchard if we left the outside rows unsprayed. In each case, we sprayed only a single row and measured the drifting spray depositing both outside and within the orchard.
To trap the depositing spray aerosols, we laid on the ground silica gel cards (aka "drift" cards, 20 cm x 10 cm) along a transect perpendicular to the row to a distance of 300 feet (91 meters) outside of the orchard and 50 feet (15 meters) within the orchard. Two transects were measured for each spray run. We loaded Guthion (azinphos-methyl insecticide) and a fluorescent Day-Glo dye into the tank. After a single row was sprayed, we picked up the cards, photographed them under ultraviolet light, and then we extracted them to measure Guthion residues. For each spray, the wind was light and variable, but tended to blow across the transect rather than parallel with it.

Examination of the cards under UV light revealed bright orange spots wherever spray aerosols deposited on the surface (Figure 8). We could see that treating a single row caused movement of the spray several rows within the orchard. However, we could detect the fluorescent dye only 10 feet outside of the orchard.

Our analytical method for actual Guthion residues was more sensitive then our ability to visualize the fluorescent dye. Nevertheless, we only detected Guthion residues to a maximum distance of 30 feet (9.1 meters) from the outside tree row.

I was curious to see how well AgDrift would simulate an actual application in central Washington. I ran the AgDrift model to simulate a one-row spray—either a spray between rows one and two or between rows two and three (Figure 7). In each case, I noted that AgDrift over-predicted measured drift in the region near the orchard (Figure 9). Although the creators of the AgDrift model claim that wind is not a very important factor in drift from orchards (presumably because of the calming effect of the canopy) (Teske et al. 2001), the light winds blowing across the transect may have dampened drift away from the orchard. Nevertheless, I have concluded that simulations of orchard spraying with AgDrift is conservative enough to allow its use for designing no-spray buffer zones to protect bystanders.
Changing Residues into Doses
Once residues have been determined, the next step in designing a toxicologically protective buffer zone is to translate depositing residues into a whole body dose. Drift is often expressed as the mass of residues depositing on a given surface. For example, one common expression of drift is mg/m2, as shown in Figure 8. If we knew the surface of a person's body, we could very conservatively assume that either all or some fraction of their body surface is exposed. Dividing by the body weight would yield a dose in units of mg/kg. These units are conveniently the same as the units used in the reference dose (RfD).
The most conservative bystander to protect would be a small child because children have the highest surface area per unit of body weight. The EPA has estimated for a 10 kg child that the 95th percentile of surface area is 0.682 m2 (U.S. EPA 1997). Using this value and an assumption of 100% dermal absorption of any depositing insecticide residues, the whole body dose can be calculated. For example, if a child were positioned directly under a spray applied at the rate of 1 lb of active ingredient per acre (AI/acre), which is equivalent to 1.124 kg AI/ha, then the body exposure would be 7.6 mg/kg (i.e., 1.124 kg/ha * 1 ha/10000 m2 * 1000000 mg/kg * 0.682 m2 / 10 kg). If dermal absorption or penetration of the pesticide were 100% efficient, then 7.6 mg/kg would represent a whole body dose rather than just dermal exposure. Actual exposure would be adjusted by any dermal absorption efficiency less than 100% to yield the whole body dose. Using similar reasoning, any drifting residue beyond the orchard could be transformed to a whole body exposure and then adjusted by the dermal penetration efficiency to obtain the whole body dose.
Toxicologically Relevant Buffer Zones for Pome Fruit Insecticides
Of all the insecticides currently registered for orchard use after bloom, Guthion (azinphos-methyl) is used the most and is the most hazardous with respect to the acute oral LD50 (4.4 mg/kg) and dermal LD50 (155 mg/kg) (Table 1). Thus, any buffer zone derived for Guthion should also provide protection for use of all other pesticides. There is one exception: Lorsban (chlorpyrifos). Lorsban is registered for use only during apple dormancy. Although it is significantly less hazardous than Guthion from an acute toxicity perspective, EPA has assigned an extra 10-fold safety factor to its NOAEL, making it seem relatively more hazardous than Guthion with respect to its RfD (Table 1). All other compounds used currently in orchards have low oral and dermal toxicity and are inefficiently absorbed through the skin (Table 1).
TABLE 1

Toxicological Profiles for Conventional and Reduced-Risk
Insecticides Used in Apple Production.

Estimated no-spray buffer zones assume the dermal absorption efficiencies as shown in the adjacent column. Note that carbaryl is mostly used as a fruit thinner, not an insecticide. Toxicological data, dermal absorption efficiency, and RfDs come from EPAs Registration Eligibility Decision Documents and Petition Tolerances published in the Federal Register. Estimated buffer zones are calculated based on the information presented in this article.
Pesticide

LD50 Oral

(mg/kg)

LD50 Dermal

(mg/kg)

Acute RfD or PAD

(mg/kg/day)

% Dermal Absorption

Estimated Buffer Zone (ft)

azinphos-methyl

4.4

155

0.003

42

70

chlorpyrifos

223

222

0.0005

3

275

phosmet

113

5000

0.045

10

0

carbaryl thinner

307

2000

0.01

12.7

5

acetamiprid

1064

2000

0.1

30

0

methoxyfenozide

5000

2000

0.1 (1)

3

0

(1) EPA has not defined an acute RfD for methoxyfenozide owing to lack of short term toxicity. However, the chronic RfD, which is based on two-year feeding studies is 0.1 mg/kg/day.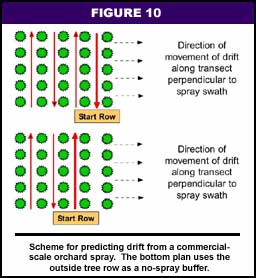 To determine a toxicologically relevant no-spray buffer zone for Guthion, I estimated drift from a 20-row spray starting with rows one and two (Figure 10). I repeated the simulation starting from rows two and three, essentially using the outside row as an extra buffer (Figure 10). The drift residues depositing on the ground were expressed as a whole body dose assuming 100% dermal absorption. Whole body exposure was also adjusted by the dermal absorption efficiency of 42% that was discussed by the EPA in the Registration Eligibility Decision Document for azinphos-methyl (http://www.epa.gov/pesticides/reregistration/status.htm).
The estimated no-spray buffer zone meeting EPA's standard of reasonable certainty of no harm was 160 feet from tree row one if the sprayer line of travel was between the first two rows (Figure 11). This buffer zone assumes that Guthion was 100% absorbed. When a more realistic assumption of 42% dermal absorption efficiency is applied, the no-spray buffer zone drops to 70 feet (Figure 11).
The effect of not spraying the outside two rows can be seen in Figure 12. With an assumption of 100% dermal absorption efficiency, the no-spray buffer zone drops to 140 feet. With the more realistic scenario of partial dermal absorption, the zone drops to 55 feet.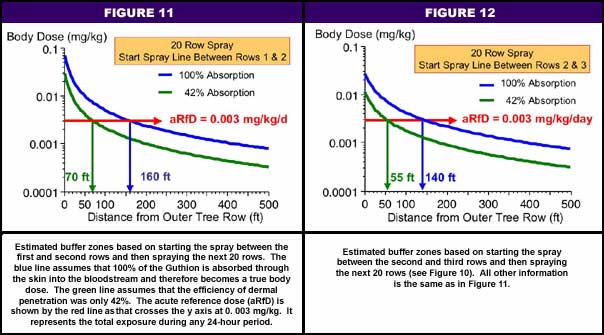 The buffer zones I estimated for other commonly used and new insecticides are listed in Table 1. Note that chlorpyrifos has an even larger estimated buffer zone than Guthion despite being of lower acute toxicity and higher RfD. As mentioned earlier, chlorpyrifos has been assigned an extra 10-fold safety factor owing to EPA's concerns about child sensitivity. The resulting figure of 0.0005 mg/kg is considered to be a child protective Population Adjusted Dose (PAD). In addition to having a more protective standard, chlorpyrifos will tend to drift more because it is applied during dormancy, when a lighter canopy is present to filter out drifting residues. Finally, Lorsban residues downwind of the spray line will be higher than Guthion because its application rate is double the typical Guthion rate (2 lbs AI/acre vs. 1 lb AI/acre).
An important point to consider is the extreme conservatism of these buffer zone calculations. I assumed that every nook and cranny of body surface would be exposed to drifting spray. Of course we may want to account for the lifestyles of the neighborhood nudist colony, but for the overwhelming majority of us, such a scenario is unlikely.
Who Is Responsible for No-Spray Buffers?
My county's planning commission has spoken loud and clear regarding responsibility for buffer zones. If a planned residential community is going to sit adjacent to a functioning farm, the developer is going to have to leave sufficient undeveloped land along the border to reduce the chance of exposure to not only spray drift but to the other operations of the farm.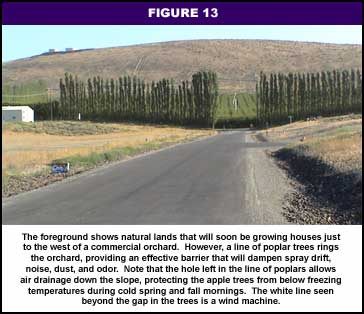 Even if a grower is not affected by creeping suburbia, he or she may want to leave unsprayed rows around the borders of cropping areas if these areas are very close to sensitive habitats like streams. If an orchard is adjacent to undeveloped lands, a no-spray zone may benefit the potential biocontrol functions of the beneficial insects harbored in the vegetation. Another reason to consider leaving unsprayed border rows is the proximity of other crops for which the pesticide is not registered.
Buffers: One Strategy Among Many
When growers are considering buffering their spray operation, they must keep in mind that not protecting all of their trees could make them vulnerable to pest outbreaks. Thus, judicious application of IPM principles for pest population monitoring is an essential companion to any spray management program.
Since human health is the bottom-line issue for these discussions, growers seeking management strategies may want to try the new reduced-risk insecticides that have been registered within the last year or two. For pome fruits, Intrepid (methoxyfenozide) and Assail (acetamiprid) (Table 1) can be effective substitutes for Guthion, especially if codling moth populations are low. Just remember that the perception of chemical trespass is not based on toxicity. Any legal judgment would likely reflect the danger level of the material, but any detection of residues is technically drift.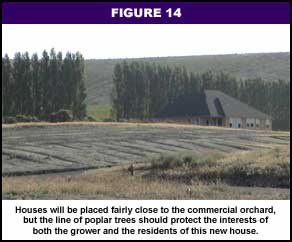 Land developers can be good neighbors by planning buffer zones that are irrigated and vegetated. For example, planting a stand of tall trees like poplars can be an effective barrier for physically trapping drifting spray while also cutting down on noise, dust, and odors (Figure 13, 14). Because poplars may have a limited life span, slower growing coniferous trees can be planted adjacent to the rapidly growing poplars to serve as a more permanent vegetative barrier. Whenever planning a tree-lined buffer, developers should consider air drainage characteristics of the upwind orchard and leave gaps in the trees (Figure 13).
In summary, buffer zones are another technique for managing spray drift. When protecting human bystanders, drift modeling in conjunction with a knowledge of EPA's standards for reasonable certainty of no harm can be used to set toxicologically relevant no-spray zones. The results from this planning exercise will be very conservatively protective of humans and may help keep peace in the neighborhood.
Allan Felsot is an Environmental Toxicologist with the Food and Environmental Quality Laboratory on the Tri-Cities campus of Washington State University. He is a frequent contributor to AENews and can be reached at afelsot@tricity.wsu.edu or (509) 372-7365.
REFERENCES
Felsot, A. S., S. Foss, J. Yu. 2003. Deposition of pesticides in riparian buffer zones following aerial applications to Christmas tree plantations. In Pesticide Science: Environmental Fate & Effects of Pesticides, 3rd Edition. J. Coats and H. Yamamoto (ed.), Oxford University Press. 288 pp. ISBN #0-8412-3722-0.
Fox, R. D., et al. 1993. Downwind residues from spraying a semi-dwarf apple orchard. Transactions of The ASAE 36(2):333-340.
Teske, M. E., S. L. Bird, D. M. Esterly, T. B. Curbishley, S. L. Ray, and S. G. Perry. 2002. AgDRIFT: a model for estimating near-field spray drift from aerial applications. Environ. Toxicol. Chem. 21(3):659-671.
Teske, M. E., S. L. Bird, D. M. Esterly, S. L. Ray, and S. G. Perry. 2001. A User's Guide for AgDRIFT 2.03: A Tiered Approach for the Assessment of Spray Drift of Pesticides. C. D. I. Report No. 01-01, Steward Agricultural Research Services, Inc., Macon, Missouri.
U.S. EPA. 1997. Exposure Factors handbook. Volume 1-General Factors. EPA/600/P-95/002Fa, Office of Research and Development, National Center for Environmental Assessment, U.S. EPA, Washington, DC.
Go to Agrichemical and Environmental News Index
Go to WSPRS (Washington State Pest Management Resource Service) Home Page
---