Salmon-Stimulated Lawsuits
Swimming in Circles or Shouldered on Sound Science?
Dr. Allan S. Felsot, Environmental Toxicologist, WSU
During July 2002, the U.S. District Court of Western Washington (i.e., the Federal Court) issued a summary judgment declaring that EPA was in violation of the Endangered Species Act (ESA). The judgment resulted from a lawsuit filed by a consortium of advocacy groups (i.e., the Consortium) that declared the EPA failed to consult with the National Marine Fisheries Service (NMFS) during the pesticide registration process. Fresh from its victory, the Consortium filed a motion in November 2002 for injunctive relief from the use of 54 pesticides listed in the Federal Court's summary judgment (Table 1). In short, the injunction is requesting restrictions on the use of the pesticides nearby water bodies that may harbor salmon.
At stake is the ability of growers to continue to use pesticides in a manner that has followed the guidelines approved by the EPA to ensure the mandates of FIFRA (Federal Insecticide, Fungicide and Rodenticide Act). A 1972 amendment to FIFRA known as FEPCA (Federal Environmental Pesticide Control Act) requires EPA to determine a reasonable certainty of no harm to the environment before registering a product. The original lawsuit and following motion for injunction imply that the reasonable certainty standard has been violated when endangered salmon populations are considered.
Considering the intense scrutiny that EPA puts into assessing the human and environmental hazards from pesticides, lawsuits declaring the process inadequate and therefore seeking remedies bear closer examination for their scientific merits. With regard to salmon, two questions come to mind. Are salmon populations really in danger from pesticide residues at concentrations found in the environment, and will the requested injunctive relief actually protect salmon? After all, if hazards to salmon from pesticide residues are negligible and the restrictions requested in the injunction are no more protective than current practices, why impose them at all?

TABLE 1

The 54 pesticides cited in the summary judgment by the Federal Court that requires EPA to consult with NMFS about their effects on protected salmon populations. Darker boxes (items in white type) indicate that EPA has already issued a risk assessment specifically for listed salmon populations and is in the process of consultation with the National Marine Fisheries Service (EPA 2002a).

Pesticide

Use (1)

Pesticide

Use

2,4-D

H

Acephate

I

Alachlor

H

Azinphos-methyl

I

Atrazine

H

Carbaryl

I

Bensulide

H

Carbofuran

I

Bentazon

H

Chlorpyrifos

I

Bromoxynil

H

Coumaphos

I

Dicamba

H

Diazinon

I

Dichlobenil

H

Diflubenzuron

I

Diuron

H

Dimethoate

I

Linuron

H

Disulfoton

I

Metolachlor

H

Ethoprop

I

Metribuzin

H

Fenamiphos

I

Molinate

H

Lindane

I

Norflurazon

H

Malathion

I

Oryzalin

H

Methamidophos

I

Oxyfluorfen

H

Methidathion

I

Paraquat dichloride

H

Methomyl

I

Pebulate

H

Methyl parathion

I

Pendimethalin

H

Naled

I

Prometryn

H

Phorate

I

Simazine

H

Phosmet

I

Tebuthiuron

H

Thiodicarb

I

Terbacil

H

Thiobencarb

H

Fenbutatin-oxide

A

Triallate (2)

H

Propargite

A

Triclopyr

H

Trifluralin

H

1,3-Dichloropropene

F

Captan

F

Chlorothalonil

F

Iprodione

F

(1) H = Herbicide; F = Fungicide; I = Insecticide; A = Acaricide
(2) Triallate was not included in the summary judgment over EPA's failure to consult with NMFS but was assessed individually by EPA for effects on listed salmon.
Legal History
Currently, salmon populations known as Evolutionarily Significant Units (ESUs) have been declared endangered or threatened under the Endangered Species Act (ESA). The ESA mandates that ESUs receive Federal protection. As almost all of the 26 declared salmon ESUs are present exclusively in the Pacific Northwest, the impact here is great. In addition to disallowing all kinds of activities that may harm the ESUs, the ESA directs Federal agencies to consult with the NMFS to insure that agency actions do not jeopardize the ESUs. The consultation provision states that each agency shall use the best scientific and commercial data to make decisions about protection.
The ESA also allows citizen-initiated lawsuits against any person, group, business, or governmental agency that is perceived to be violating the ESA's provisions to protect threatened and endangered species. Taking advantage of this democratic provision, the Consortium sued EPA under two mandates of the ESA known as Section 7(a)(1) and 7(a)(2). The Consortium reasoned that the EPA in its re-registration of pesticides used in the PNW violated the consultation provisions of the ESA (the Section 7(a)(2) complaint). Furthermore, the Consortium claimed that EPA failed to use its authority in consultation with NMFS to promote the conservation of the salmon ESUs (the Section 7(a)(1) complaint).
In July 2002, the Federal Court issued a summary judgment that agreed with the premise of the Consortium's lawsuit regarding EPA's failure to consult with NMFS in its agency actions to re-register pesticide active ingredients (the Section 7(a)(2) complaint). However, the Court ruled that only 55 pesticides (54 individual active ingredients had actually been identified, Table 1) were covered by the summary judgment because the Consortium failed to provide the identity and evidence of harm for any of the 898 other registered active ingredients.
Regarding the Consortium's Section 7(a)(1) complaint, the Court found that EPA had taken actions to conserve salmon ESUs and had indeed shown effort to consult with NMFS on pesticide management practices.
The purpose of the summary judgment was not to rule on the merits of whether the 54 pesticides indeed posed a threat to salmon ESUs. However, in ruling that the 54 pesticides were subject to the Section 7(a)(2) consultation provision of the ESA, the Court noted the plaintiffs (i.e., the Consortium) submitted "scientific or competent declaratory evidence demonstrating a causal link between EPA's ongoing registration actions and direct or indirect adverse effects on salmonid populations." According to a footnote in the summary judgment, the Court considered EPA's own reports as sufficient documentation of potentially significant risks to salmon posed by certain registered pesticides.
The summary judgment is unclear as to whether the Federal Court had considered scientific arguments counter to the perspective of pesticide harm on listed salmon populations, but the merit of the lawsuit rested solely on whether EPA violated the consultation provision of ESA. However, the summary judgment recognized the Consortium's argument that "their burden with respect to causation [i.e., of harm to salmon] is minimal."
EPA is Reactive and Proactive
In response to the Court's summary judgment, EPA has been issuing findings on potential risk of 54 pesticides to specific salmon populations listed for ESA protection. EPA has established a Web site to issue their determination of potential harm or no harm and has opened the opinions to public comment (EPA 2002a). EPA is just beginning consultations with the NMFS on potential risk of the earmarked pesticides to salmon and/or their habitat. EPA has also implemented an Endangered Species Protection Program (ESPP) and is currently seeking public comments about its plan (EPA 2002b).
The stated goal of the ESPP is to "carry out responsibilities under FIFRA in compliance with the ESA while at the same time not placing unnecessary burden on agriculture and other pesticide users." In addition to describing how consultations with agencies administering the ESA (i.e., NMFS and the Fish and Wildlife Service [FWS]) would take place, the ESPP describes how EPA will meet its responsibilities under Section 7(a)(1) of the ESA by completing and upgrading County Bulletins, amending pesticide labels to reference County Bulletins, and enhancing monitoring programs. County Bulletins describe the locations of protected ESUs and restrictions on registered pesticides that may be used in those areas. The bulletins can be accessed at http://www.epa.gov/espp.
The Consortium Strikes Again
Not content with EPA's response or its ESPP, the Consortium filed during November 2002 a motion for injunctive relief. In brief, the Consortium is requesting that the Federal Court impose use restrictions on the 54 pesticides covered in the summary judgment regarding violations of EPA's consultation responsibilities. The rationale for the request is that the ESA specifically requires that its administering agencies (NMFS and FWS) issue a comprehensive biological opinion on protected ESUs prior to initiation of any agency (e.g., EPA) action. Each pesticide registration would be considered a single agency action.
Because the 54 subject pesticides are still registered and therefore legal to use in the watersheds containing the affected salmon habitats, the EPA has essentially taken "action" prior to NMFS issuing a biological opinion. Thus, to remedy this violation and protect salmon prior to completion of consultations, the Consortium wants the Federal Court to issue an injunction prohibiting EPA from continuing to authorize use of the 54 pesticides by ground spraying within 20 yards (~60 ft) or by aerial spraying within 100 yards (~300 ft) of water bodies accessible to listed salmon. Furthermore, the Consortium is requesting that the Federal Court prohibit use in urban watersheds of a subset of 13 pesticides unless they are sold by a licensed pesticide dealer and applied by a certified pesticide applicator. In short, the Consortium is requesting the establishment of no-spray buffer zones around streams when pesticides are used in agriculture, buffer zones along rights-of-way, and prohibition of homeowner use of certain pesticides.
Where's the Science?
Because the Federal Court had not ruled previously on whether the 54 pesticides harm salmon, this discussion need not lapse into a food fight over the merits of the Court's summary judgment mandating EPA to consult with NMFS. However, in making its case for an immediate junction to proscribe use of the named 54 pesticides, the Consortium claims to have presented scientific evidence of immediate harm to salmon. The evidence comes in two forms: (1) the USGS has detected pesticides in water of the Pacific Northwest that are associated with adverse effects on salmon or their habitat; (2) the EPA has characterized ecological risk of many of the 54 pesticides as exceeding their levels of concern (LOCs) for fish and their habitat.
Scrutiny should be brought to bear on claims that residues detected by USGS are associated with adverse effects on salmon or their habitat. Two measures of toxicity are used to determine potential adverse effects (or hazard): acute and chronic. Acute tests determine the concentration lethal to 50% of the test population after exposures for 48-96 hours. Results are expressed as an LC50. With regard to judging potential effects on populations, the LC50 has a lot of merit because wiping out 50% of breeding individuals has a reasonable probability of hurting the reproductive potential of a population. Chronic toxicity is measured after exposing a test population to a pesticide throughout its breeding life cycle. To describe this effect, the NOAEC (No Observable Adverse Effect Concentration) is used; the chronic test represents a direct measurement of possible harm to reproductive potential. In these tests, measurements on fish growth in addition to effects on reproduction can be used as an adverse effects endpoint.
Concentrations of pesticides detected in the USGS studies of Oregon and Washington watersheds are lower than known lethal susceptibilities of salmon (Bortleson et al. 2000; Rinella and Janet 1998; Voss et al. 1999; Williamson et al. 1998). For example, azinphos-methyl (AZM) has been tested on salmon and has been found to be the most toxic of orchard pesticides used in the Pacific Northwest (EPA 1999). The LC50 for coho salmon is 3.2 ppb, but the highest detection was only ~0.5 ppb and occurred in an agricultural drain in the Columbia Basin where AZM use would be intense (Williams et al. 1998). More importantly, the USGS found AZM in only 12% of the collected samples in the Basin, and almost all were below 0.1 ppb. Nationally, 95% of samples contained less the 0.002 ppb AZM (Larson et al. 1999). The USGS's national database has a lot of relevance for AZM residues in the PNW because the insecticide is mostly used in pome fruit production.
Possible habitat effects can be considered as changes in abundance of food resources. Invertebrates like the microcrustacean Daphnia serve as surrogate species. Daphnia reproduction was not affected by a concentration of 0.25 ppb (which is the NOAEC). Logically, concluding that a compound like AZM is harming salmon directly or indirectly doesn't make sense when 90% of water samples contain no detectable amounts, there is a 30-fold safety factor between the acute LC50 and almost all detected concentrations (i.e., the ratio of 3.2 ppb to 0.1 ppb), and reproduction of the most sensitive invertebrate is likely not affected by the environmental concentrations.
The Consortium has made additional arguments that pesticides found by the USGS have sublethal effects that harm salmon. This conclusion seems to come from literature studies of diazinon's potential to modify olfactory responses of salmon to anti-predatory alarm pheromone and sex pheromone (Mooring and Ware 1996; Scholtz et al. 2000). I have previously discussed my analyses of these data (Felsot 2001d) and concluded the actual concentrations found in the PNW are too low for the purported effects on salmon olfaction to be ecologically relevant. Similarly, I have previously argued that sublethal effects of pesticides on fish have not been shown to occur at concentrations actually found in the environment (Felsot 1999a).

Ecological relevance of pesticide residues on salmon populations in itself bears some examination. I have surmised that part of the argument over harm represents confusion between effects on individuals versus effects on populations. From an ecological perspective, harming a population would entail serious decline in reproductive potential that prevented the population from maintaining a sustainable size. Removing a few individuals would not harm the population as long as reproductive potential was maintained. After all, if harming individual salmon were problematic, NMFS would have to eliminate fishing.
In contrast to the potential harm hypothesized for pesticides, fishing definitively has killed salmon. Thus, the claims that currently registered pesticides harm salmon populations by either direct mortality or sublethal effects or by effects on their food sources is specious because such effects, if they are occurring at all, have never been shown to affect reproductive potential of the protected salmon ESUs. As I've just argued for AZM, the extent of occurrence and concentrations of pesticides in the PNW are just too low to have any direct or indirect effect on salmon populations, even if some individuals were sublethally affected.
EPA Shoots Itself in the Foot
The second argument used by the Consortium to bolster its case for an injunction is that EPA itself has concluded that registered uses of the 54 pesticides "would likely result in environmental contaminations that exceed EPA's levels of concern for fish and habitat." The Consortium has interpreted EPA's risk characterization as being applicable to salmon. EPA reports its ecological risk characterizations in a pesticide's registration eligibility decision document (RED). However, EPA does not use these documents to discuss specific endangered species, but only to conclude whether the level of concern (LOC) established for endangered species in general is exceeded.
But what does it really mean to exceed an LOC? The Consortium's injunction argument seems to ignore how the LOC is determined. For example, they state, "Based on toxicity studies, EPA establishes regulatory levels of concern for fish, aquatic invertebrates, and aquatic plants." In fact, an LOC is a benchmark value not to be exceeded when one calculates the ratio of the expected (or estimated) environmental exposure (EEC) relative to a toxicological endpoint (i.e., the LC50 or the NOAEC) for the most sensitive organism. This ratio is called the risk quotient (RQ). The LOCs for RQs that are not to be exceeded for different risk presumption scenarios are shown in Table 2. Note that EPA protects endangered species by setting the LOC for acute toxicity to a conservative level of 0.05. However, for chronic toxicity, which measures adverse effects on growth and/or reproduction, the NOAEC should not be exceeded. Whatever the basis for determining the tolerable LOC, bear in mind that its value is not based on any empirical scientific evidence of harm but rather a risk management decision to prevent harm.
TABLE 2

EPA Risk Characterization Guidelines
(see Felsot et al. 1999a)

Risk Presumption
Category

Risk Quotient
Calculation (1)

Level of
Concern

Effective
Safety Factor

Acute High Risk

EEC/LC50

0.5

2

Acute Restricted Use

EEC/LC50

0.1

10

Acute Endangered Species

EEC/LC50

0.05

20

Chronic Risk

EEC/NOAEC

1

1

(1) EEC = estimated environmental concentration; LC50 = concentration of pesticide lethal to 50% of test subjects in 96 hours; NOAEC = no observable adverse effect concentration
An important part of the RQ is exposure information; the way that information is obtained influences perception of risk. For almost all pesticides registered or re-registered to date, EPA uses computer models to estimate pesticide residues in aquatic habitats. The computer models, named PRZM (Pesticide Root Zone Model) and EXAMS (Exposure Analysis Modeling System) simulate particular crop uses, application rates, weather conditions, degradation rates, and drift potential. The target body of water is a fixed pond two acres in area by six feet deep. For many pesticides, degradation in water is considered much slower than in soil, so once the pesticide gets to water, it would be modeled to stay around quite a while during the growing season. As a result, initial and chronic (over 60-90 days) residues are much higher in EPA's modeling exercises than reported from the agricultural streams monitored by the USGS. More important is the fact that salmon live in flowing streams, not static ponds. Concentrations of pesticides would quickly become diluted under flowing conditions. Thus, claiming that EPA's own risk characterization indicates harm to salmon indicates an uncritical acceptance that EPA's method of deciding exposure is even relevant to salmon in the first place.
The One-Size-Fits-All Approach Is Illogical
Although I have been skeptical that pesticides used in agricultural watersheds throughout the PNW are directly or indirectly harmful to salmon populations, I am a supporter of the use of buffer zones to protect sensitive organisms (whether they be people, plants, or salmon) (see Felsot 1999b). However, I am not supportive of the one-size-fits-all approach requested in the Consortium's injunction. Rather, I have argued that buffer zones should be based on toxicological relevance and the specific environment of operation rather than set as a singular distance applying to all situations.
The first reason I am against singular buffer zone widths is because the 54 pesticides in question represent a mix of herbicides, fungicides, insecticides, and acaricides (Table 1). These chemicals have a myriad of toxicological modes of action as well as varying toxicities against sensitive fish and invertebrate species (Figure 1). Generally, the herbicides and fungicides are much less toxic to aquatic organisms than the insecticides or acaricides. Therefore 1 ppb of herbicide in water will have a much different hazard potential for invertebrates than 1 ppb of an organophosphorus (OP) insecticide.
FIGURE 1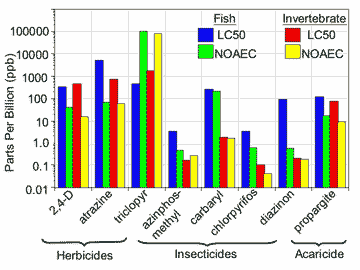 Toxicological endpoints for selected types of pesticides cited in the summary judgment of the U.S. District Court of Western Washington. Examples were chosen to represent different kinds of pesticides and different levels of hazard; residues of the chosen compounds have been detected in the waters of the Pacific Northwest. Pesticides with longer bars are comparatively less hazardous. Note that the insecticides tend to have much shorter bars than the herbicides and the acaricide, especially for invertebrates. Toxicological values were derived from information in each pesticide's registration eligibility decision document.
The second reason I am against singular buffer zone widths is because each agricultural field is unique. For example, fields in the Columbia Basin and Yakima Valley of eastern Washington do not experience runoff because most are now irrigated by moving sprinklers or drip systems. Thus, a buffer zone designed to slow down runoff seems useless. On the other hand, a no-spray buffer set to reduce direct drift in water should take into account realistic conditions in combination with concentrations likely to cause no harm. If one compound is less hazardous to aquatic organisms than another compound, equally sized no-spray buffers do not increase safety.
Putting the Proposed No-Spray Buffer Zones to the Test
The Consortium argues in its injunction request that its proposed no-spray setbacks from water bodies will prevent harm to salmon in the interim between EPA consultation with NMFS and the issuance of a biological opinion. The Consortium seems to be making the assumption that spray drift may be the most significant pathway to aquatic habitat contamination. To determine whether these proposed buffer zones were indeed protective or perhaps overkill, I used the AgDrift model and realistic pesticide use scenarios to estimate residues in water at various distances from crop rows at the field edge.
The AgDrift model is one tool being used by the EPA to estimate the magnitude of drift during spraying (Teske et al. 2002). AgDrift's aerial application module is partly theoretical because it relies on the physics of particles to estimate their downwind movement potential. The module for ground spraying is largely empirical because it relies on the results of numerous experiments to estimate drift potential. Another module of AgDrift can estimate residues in a flowing stream over time, so that the dilution of depositing pesticide residues can be considered (Teske et al. 2001).
I chose two compounds from the list of 54, AZM and propargite. AZM is usually applied from the ground using an airblast sprayer that directs the sprays up into the tree canopy. Propargite is used on alfalfa seed crops, hops, mint, and potatoes. It can be applied through an irrigation system (on potatoes only) or by ground or aerial application. The choices of AZM and propargite, therefore, allowed realistic simulations of an orchard application by ground and a row crop application by air. Furthermore, AZM was chosen because it represented an OP insecticide tested directly on coho salmon and it is one of the most acutely toxic insecticides to fish. Propargite is not particularly toxic to fish, but the EPA did hypothesize that some ESUs in the Pacific Northwest may be affected by residues of the acaricide.
For each compound, I chose a more conservative aquatic target than the EPA uses. My target was a 9.84-ft wide by 1.64-ft deep stream. In the first modeling scenario I treated the stream as a pond (i.e., the water was static) and modeled an airblast and airplane sprayer moving along a crop row that was 328 feet long. Thus, the stream would be receiving spray drift along this entire length. The area of the receiving "pond" with my stream's dimensions therefore was 0.07 acres compared to EPA's two-acre pond. Choosing a shallow, narrow stream is conservative because its significantly lower volume in comparison to a 6-ft deep pond will result in much higher pesticide concentration following a constant amount of drift.
I purposefully chose the particular dimensions of the stream to coincide with the dimensions of the default stream used by AgDrift to estimate residues in a flowing system. For flowing stream assessment, I used the model's default flow rate of 2.24 mph. I asked the model to tell me what concentrations to expect in the stream over a period of 15 minutes at downstream locations of 0, 10, 100, and 1000 feet. The no-spray buffer zone was 60 ft for the airblast sprayer and 300 feet for the aerial application.
And the Winner Is…
After modeling the percentage deposition of spray drift onto the water, I assumed instantaneous mixing throughout the water column and therefore used the volume to change the residues into ppb. The results from modeling spray drift into a shallow and narrow non-flowing stream showed that the size of the buffers needed to protect salmon against the acute effects of pesticides are substantially smaller than the no-spray setbacks proposed in the Consortium's request for an injunction. For example, Figures 2 and 3 show the residues in water expected from deposited spray drift of AZM and propargite, respectively, using different setback distances. Overlain on these curves are the toxicologically relevant endpoints for fish and invertebrates.
FIGURE 2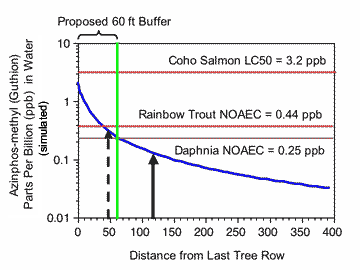 Azinphos-methyl residues in water of a non-flowing "stream" simulated using the model AgDrift. The pesticide was sprayed at a typical rate of 1 lb AI/acre from an airblast sprayer moving parallel to the water body. Spraying was simulated on twenty rows of trees and the outside or last tree row was assumed to be at increasing distances from the edge of the stream. The red and brown lines represent the pesticide concentration corresponding to the ecotoxicological endpoints. The green line represents the no-spray buffer zone distance of 60 feet. The dashed vertical arrow represents the distance corresponding to a risk quotient of 0.1 (i.e., the residues in water are ten fold less than the coho salmon LC50). The solid black arrow represents the no spray buffer zone distance (~115 ft) where the depositing residues in water would be equivalent to an RQ of 0.05 (EPA's level of concern for endangered species).
FIGURE 3
Propargite residues in water of a non-flowing "stream" simulated using the model AgDrift. The pesticide was sprayed from an Air Tractor AT401 fixed wing aircraft moving parallel to the water body. Spraying was simulated at a maximum label rate of 1.88 lbs AI/acre Comite on twenty rows of potatoes and the outside or last spray swath was assumed to be at increasing distances from the edge of the stream. Other model input parameters were 70 deg F, 75% relative humidity, 4 mph cross wind. The red and brown lines represent the pesticide concentration corresponding to the ecotoxicological endpoints. The green line represents the no-spray buffer zone distance of 300 feet. The dashed vertical arrow represents the distance corresponding to a risk quotient of 0.1 (i.e., the residues in water are ten fold less than the rainbow trout LC50). The solid black arrow represents the buffer zone distance where the depositing residues in water would be equivalent to an RQ of 0.05 (EPA's level of concern for endangered species).
A setback distance of 40-45 feet was simulated to cause AZM water residues that were 10 times less than the LC50 for coho salmon and equal to the fish NOAEC (Figure 2). For propargite, the setback distances giving tenfold protection from acute toxicity to rainbow trout (which is in the same genus as coho salmon) and equivalence to the NOAEC for growth effects was 59-73 feet (Figure 3). Thus, the buffers based on drift modeling and the protection of salmon from acute toxicity are less than the 60 ft buffers requested for a ground spray of AZM and the 300 ft buffer requested for an aerial spray of propargite.
A no-spray setback distance of 91-105 ft should be sufficient to protect invertebrates from acute and chronic toxicity of propargite. The no-spray setback to protect aquatic invertebrates from chronic toxicity of AZM would be 60 ft, but over 650 ft would be required to provide a 10-fold safety factor for acute toxicity (i.e., the concentration of AZM would have to be 0.016 ppb).
The previous analysis simulating a non-flowing stream segment would be most appropriate for protecting endangered frogs living in ponds of fixed volume and no inlet or outlet. However, if we're really interested in protecting salmon, exposure should be simulated in the appropriate habitat, a flowing stream. When AgDrift is used to generate the rise and fall of pesticide residues along a 1000 ft length of stream, the picture of potential exposure changes entirely from that in a fixed volume of water. Figures 4 and 5 show that residues in flowing water that drifted from a ground sprayer using a 60-ft no-spray buffer or an airplane using a 300-ft buffer should peak within 50-60 seconds after application and then fall quickly to very low levels within 10-15 minutes. For example, at a downstream distance of 10 ft, AZM residues peaked at a concentration 0.07 ppb and then dropped to ~0.01 ppb within 13 minutes. Using a 300-ft no-spray buffer, aerial application of propargite resulted in maximum residues of 1 ppb within 50-60 seconds that then dropped to zero in about 5 minutes. The later occurring peak in residues observed after 5 minutes represents a 'wave' of residue traveling from upstream locations. Modeling flowing stream residues with a no-spray buffer of 50 ft gave higher initial deposits (for example, 20 ppb for propargite), but residues declined to concentrations below 1 ppb within minutes.
FIGURE 4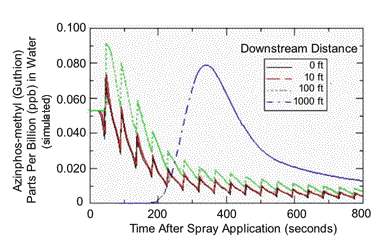 AgDrift model simulation of azinphos-methyl residues in a stream flowing at 2.24 mph following an airblast ground application to 20 rows of an orchard and a no-spray buffer zone of 60 ft. The spray line was 328 ft long, and the stream was 9.84 ft wide by 1.64 ft deep.
FIGURE 5
AgDrift model simulation of propargite residues in a stream flowing at 2.24 mph following an aerial application to 20 rows of a potato field and a no-spray buffer zone of 300 ft. The spray line was 328 ft long, and the stream was 9.84 ft wide by 1.64 ft deep. Other input parameters were the same as in Figure 3.
Protecting sensitive invertebrates in ponds against OP insecticides would require very large no-spray buffers, which would be difficult to implement commercially. Protecting them in flowing streams requires minimally sized buffers because the water volume is changing and constantly diluting the insecticide. If I had modeled herbicide applications, no-spray zones for fixed ponds could be even smaller than for insecticides and still achieve a reasonable certainty of no harm.
But Is It Good Enough?
EPA is in the process of making specific determinations as to whether any of the 54 subject pesticides may specifically harm salmon populations. Thus far, EPA has issued an analysis of 11 pesticides (Table 1). A "may affect" determination on one or more salmon ESUs has been made for the pesticides bensulide, diazinon, fenbutatin, metolachlor, propargite, and prometryn. Whether a pesticide will pass or fail depends on the set of exposure data that EPA uses in the risk assessment and the risk management objectives. For example, in the currently posted "may affect" determinations, runoff modeling data remains the primary means of exposure analysis. However, as I have shown, if spray drift management is the key to protecting salmon, as it is likely to be in eastern Washington or other irrigated agricultural regions, the stream assessment module of AgDrift is a more realistic measure of exposure because salmon live in flowing waters.
Nevertheless, as long as EPA maintains the necessity for an RQ for acute toxicity no greater than 0.05 (which is equivalent to a 20-fold safety factor based on the LC50) to protect endangered species, the most hazardous organophosphorus insecticides like AZM will need buffer zones even larger than sought by the Consortium (~115 ft would be required, Figure 2). In essence, the question of harm to salmon may hinge just as much on appropriate safety factors (a social issue) as much as on arguments over appropriate residue data to use in risk characterization (a scientific question).
Growers Lead the Way to Protect Salmon
While all the lawyers are arguing in court about how to best help salmon, growers and even chemical manufacturers are making the changes that will fix the ESA-driven concerns over harm from pesticides. With regard to the most hazardous compounds, the OP insecticides, registrants DowAgroSciences and Syngenta have voluntarily removed from market the popular home and garden pesticides chlorpyrifos and diazinon. Ironically, agriculture contributed very little to the load of these pesticides in comparison to urban uses (Larson et al. 1999). Because these are the most frequently detected insecticides in water, the hazards to salmon, if any, should eventually approach zero.
With regard to the remaining few uses of OP insecticides in agriculture, the FQPA as well as grower desires to adopt IPM systems and save on pesticide costs has stimulated big changes in use patterns. Thus, use of AZM, perhaps the most widely used fruit insecticide, has dropped by 40% over the last decade as apple growers have increasingly adopted the use of pheromones for mating disruption and control of the codling moth (Jones 2002). As OP insecticide use becomes less of an option and manufacturers increasingly commercialize reduced risk pesticides, growers will adopt the newer chemical technologies. The only drawback is that the cost of the newer, safer products is much greater than cost of the older products. But with improved IPM practices, growers can learn how to efficiently and more cheaply use the new technologies.
Manufacturers and growers are making changes in crop protection practices that are much friendlier to the environment. Investments are needed now to help growers develop more sophisticated IPM practices and learn how to best manage the newer reduced risk products. It is a shame precious resources are being wasted defending against lawsuits that will do nothing to improve salmon populations. Rather than spend money chasing red herrings, perhaps it is wiser to invest in commercially viable IPM systems that will inevitably help salmon populations.
Allan Felsot is an Environmental Toxicologist with WSU's Food and Environmental Quality Laboratory. He can be reached at (509) 372-7365 or afelsot@tricity.wsu.edu.
REFERENCES
Bortleson, G. C. and J. C. Ebbert. 2000. Occurrence of pesticides in streams and ground water in the Puget Sound Basin, Washington, and British Columbia, 1996-98. US Geological Survey Water-Resources Investigations Report 00-4118.
EPA. 1999. Azinphos-methyl, case number 0234. Environmental Fate and Effects Division Chapter for revised registration eligibility decision document.
EPA. 2002a. Endangered Species Effects Determinations and Consultations; An Interim Process for Public Input. http://www.epa.gov/oppfead1/endanger/effects/
EPA. 2002b. Endangered Species Protection Program Field Implementation. Federal Register : December 2, 2002, Vol. 67, No. 231, pp. 71549-71561. http://www.epa.gov/fedrgstr/EPA-PEST/2002/December/Day-02/p30463.htm
Felsot, A. S. 1999a. Pesticides and salmon decline: Missing link or red herring? Agrichemical & Environmental News (May) 157:8-11, 16. http://aenews.wsu.edu/May99AENews/May99AENews.htm#anchor27243
Felsot, A. S. 1999b. Boffo buffer zones. How big is big enough? Agrichemical & Environmental News (November) 163:14-18. http://aenews.wsu.edu/Nov99AENews/Nov99AENews.htm#anchor252603
Felsot, A. S. 2001c. Pesticides and salmon, part 2. Animals in drag? Agrichemical & Environmental News (April) 180:14-20. http://aenews.wsu.edu/Apr01AENews/Apr01AENews.htm#anchor5301120
Felsot, A. S. 2001d. Pesticides and salmon, part 1. Something smells fishy. Agrichemical & Environmental News (March) 179:1-8. http://aenews.wsu.edu/Mar01AENews/Mar01AENews.htm#anchor5338542
Jones, W. 2002. Pest management practices survey results. Washington State University Tree Fruit Research and Extension Center. http://opus.tfrec.wsu.edu/~wjones/Survey2000/
Moore, A. and C. P. Waring. 1996. Sublethal effects of the pesticide diazinon on olfactory function in mature male Atlantic salmon parr. J. Fish Biology 48:758-775.
Larson, S. J., R. J. Gilliom, and P. D. Capel. 1999. Pesticides in streams of the United States--initial results from the National Water Quality Assessment Program. U.S. Geological Survey Water-Resources Investigation Report 98-4222, Sacramento, CA :99 pp. Available as PDF from http://water.wr.usgs.gov/pnsp/
Rinella, F. A. and M. L. Janet. 1998. Seasonal and spatial variability of nutrients and pesticides in streams of the Willamette Basin, Oregon, 1993-95. Resources Investigations Report 97-4082-C, U.S. Geological Survey Water, Portland, OR http://oregon.usgs.gov/projs_dir/pn366/nawqa.html
Scholz, N. L., N. K. Truelove, B. L. French, B. A. Berejikian, Quinn T. P., E. Casillas, and T. K. Collier. 2000. Diazinon disrupts antipredator and homing behaviors in chinook salmon (Oncorhynchus tshawytscha). Can. J. Fish Aquat. Sci. 57:1911-1918.
Teske, M. E., S. L. Bird, D. M. Esterly, S. L. Ray, and S. G. Perry. 2001. A User's Guide for AgDRIFT 2.03: A Tiered Approach for the Assessment of Spray Drift of Pesticides. C. D. I. Report No. 01-01, Steward Agricultural Research Services, Inc., Macon, Missouri.
Teske, M. E., S. L. Bird, D. M. Esterly, T. B. Curbishley, S. L. Ray, and S. G. Perry. 2002. AgDRIFT: a model for estimating near-field spray drift from aerial applications. Environ. Toxicol. Chem. 21(3):659-671.
Voss, F. D., S. S. Embrey, J. C. Ebbert, D. A. Davis, A. M. Frahm, and G. H. Perry. 1999. Pesticides Detected in Urban Streams During Rainstorms and Relations to Retail Sales of Pesticides in King County, Washington. USGS Fact Sheet 097-99. http://wa.water.usgs.gov/ps.nawqa.html
Williamson, A. K., M. D. Munn, S. J. Ryker, R. J. Wagner, J. C. Ebbert, and A. M. Vanderpool. 1998. Water Quality in the Central Columbia Plateau, Washington and Idaho, 1992-95. U.S. Geological Survey Circular 1144. http://water.usgs.gov/pubs/circ1144
Washington Toxics Coalition et al. v. Environmental Protection Agency. 2002a. United States District Court, Western District of Washington at Seattle, Case No. C01-132C. http://www.pesticide.org/SalmonLawsuitOrder.pdf
Washington Toxics Coalition et al. v. Environmental Protection Agency. 2002b. United States District Court, Western District of Washington. Civ. No. C01-0132C, Motion for Further Injunctive Relief. http://www.pesticide.org/SalmonInjunction.pdf
Go to this issue's Table of Contents
Go to Agrichemical and Environmental News Index
Go to WSPRS (Washington State Pest Management Resource Service) Home Page
---