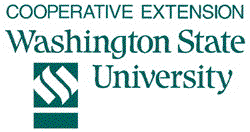 A monthly report on pesticides and related environmental issues
To see this report in Portable Document Format (PDF), please click on the button.

Should you not have Adobe Acrobat Reader (required to read PDF files), this free program is available for download at http://www.adobe.com/prodindex/acrobat/readstep.html
Open Forum: In an attempt to promote free and open discussion of issues, The Agrichemical and Environmental News encourages letters and articles with differing views. To discuss submission of an article, please contact Dr. Allan Felsot at 509-372-7365 or afelsot@tricity.wsu.edu; Dr. Catherine Daniels at 509-372-7495 or cdaniels@tricity.wsu.edu; or Dr. Carol Weisskopf at 509-372-7464. The newsleter is available in a hardcopy version for a $15 yearly subscription fee. Please contact Dr. Catherine Daniels at 509-372-7495, cdaniels@tricity.wsu.edufor details.
In This Issue
---
WSDA Pesticide Management Division lists top issues for 1998
Eric Bechtel, Editor of Research Publications, WSU

Major issues in 1998 for the Washington State Department of Agriculture Pesticide Management Division include the Food Quality Protection Act (FQPA), water quality and quantity, secondary containment rule compliance, heavy metals and dioxins in fertilizers, and global competitiveness for state crops.
FQPA: Ted Maxwell, Registration Services program manager, says the FQPA is a major issue. Maxwell said the WSDA probably has not felt the full impact of the act, but he's seen the effects on numbers of Section 24(c) and Section 18 requests received by the department. Fewer registrants are pursuing Section 24(c) registrations, while Section 18 requests have increased. As of March 3, 1997, the department had approved seven Section 24(c) requests. As of March 3 of this year, it had approved three requests. The department had 30 Section 18 requests in 1997. As of March 3 of this year, it had received 26 Section 18 requests. Maxwell said he foresees uses and entire products vanishing because of FQPA.
Water Quality and Quantity: Ann Wick, program manager for Program Development, Licensing and Recertification, considers water quality and quantity one of the biggest challenges facing the department. "Who gets it? What quality will it be? How do we maintain or improve quality? It gets into preserving salmon, restrictions on use, and endangered species. Do you have enough water flowing to ensure salmon runs? If you divert to irrigation, do you have enough for salmon? If you divert to salmon, do you have enough for power? If you can't tap into irrigation, do you have enough groundwater for crops? What if you can't get water rights to drill wells?" Wick said water degradation issues involve fertilizer management, pesticide management, and agricultural and urban runoff.
Compliance With Secondary Containment Rules: Implementation of secondary containment rules, designed to protect groundwater from contamination by agricultural chemicals at large storage and mixing sites, is the most critical issue facing Pesticide Management Compliance, according to Program Manager Cliff Weed. One portion of the rules became effective March 1.
"It's critical", Weed said, "in that a lot of people have known about this for some time, but compliance dates are now coming due." Weed said WSDA personnel will help those working toward compliance, but "will be taking a different approach toward those showing no effort to achieve compliance." (see also article on compliance)
Heavy Metals and Dioxins in Fertilizers: A governor-sponsored fertilizer reform bill drafted with help from the Washington state departments of Agriculture, Ecology, Health, and Labor and Industries, is awaiting signature from the governor. The bill, Maxwell said, requires some registrants to submit information on fertilizer heavy metal content, adopts the Canadian standard for heavy metals in fertilizers, requires additional labeling, and requires Department of Ecology review of waste-derived fertilizers and micro-nutrient fertilizers prior to WSDA registration. It also directs the WSDA to study plant uptake of heavy metals and directs the Department of Ecology to determine levels of dioxins in fertilizers and soils. The bill, which would make Washington the first state to adopt standards for heavy metals in fertilizers, has been controversial. According to Maxwell, "There have certainly been differences of opinion on whether the bill goes far enough or goes too far."
Competing in the global market: According to Wick, a major WSDA focus is keeping state-grown commodities competitive in a global market, while at the same time responding to constituent demands for restrictions and protection. "It costs X dollars to raise an apple in Washington. When you place restrictions on people, it costs money. That apple costs more, and it's competing against apples grown elsewhere that don't have those restrictions. We're trying to stay competitive globally. As an agency, we need to be responsive to the people of our state and their safety; however, we must also weigh the economic costs to our producers."

This page has been accessed
times since April 2, 1998.

Return to Table of Contents for the April 1998 issue